Improving Energy Efficiency in Papermaking:
Improving energy utilisation
Reducing carbon emissions
Finding efficiency solutions
COST Strategic workshop. 9-11 June 2008, Hoofddorp, the Netherlands.
Edited by the Programme Committee consisting of:
Kari Edelmann, VTT; Werner Förster, EFPRO; Harald Grossmann, TU Dresden (Chairman); Arie Hooimeijer, KCPK; Marco Lucisano, STFI-Packforsk; Barry Read, The Fibre Technology Association; Günter Siegel, COST.
28 pages, PDF. Download a copy by clicking here.
IMPROVING ENERGY EFFICIENCY IN PAPERMAKING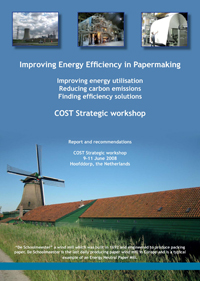 INTRODUCTION
BACKGROUND
OBJECTIVES
THE WORKSHOP
SESSION 1: "SETTING THE SCENE"
CURRENT STATUS OF ENERGY EFFICIENCY
CONCLUSIONS "SETTING THE SCENE"
SESSION 2A: "BEST PRACTICES-WHAT COULD BE DONE BETTER?"
CURRENT BEST PRACTICES
CONCLUSIONS "BEST PRACTICES"
SESSION 2B: "NEXT PRACTICES-WHAT COULD BE DONE DIFFERENTLY?"
FUTURE INNOVATIONS
CONCLUSIONS OF "NEXT PRACTICES"
SESSION 3: "THE FUTURE; TRENDS, DEVELOPMENTS AND PROSPECTS"
TRENDS, DEVELOPMENTS, PROSPECTS
ROUNDTABLE DISCUSSION
ROADMAP TOWARDS 2020
OVERVIEW PRESENTATIONS AT THE WORKSHOP