28 Mar. 2022: Andrew Hearns is working on carbon reduction projects and energy-saving techniques that will benefit us all, both now and in the future.
Global and leading hygiene and health company Essity is focusing even more on science-based target initiatives. Andrew is a Technology Area Manager in Material and Energy Savings who is taking projects from concept to delivery in an exciting way.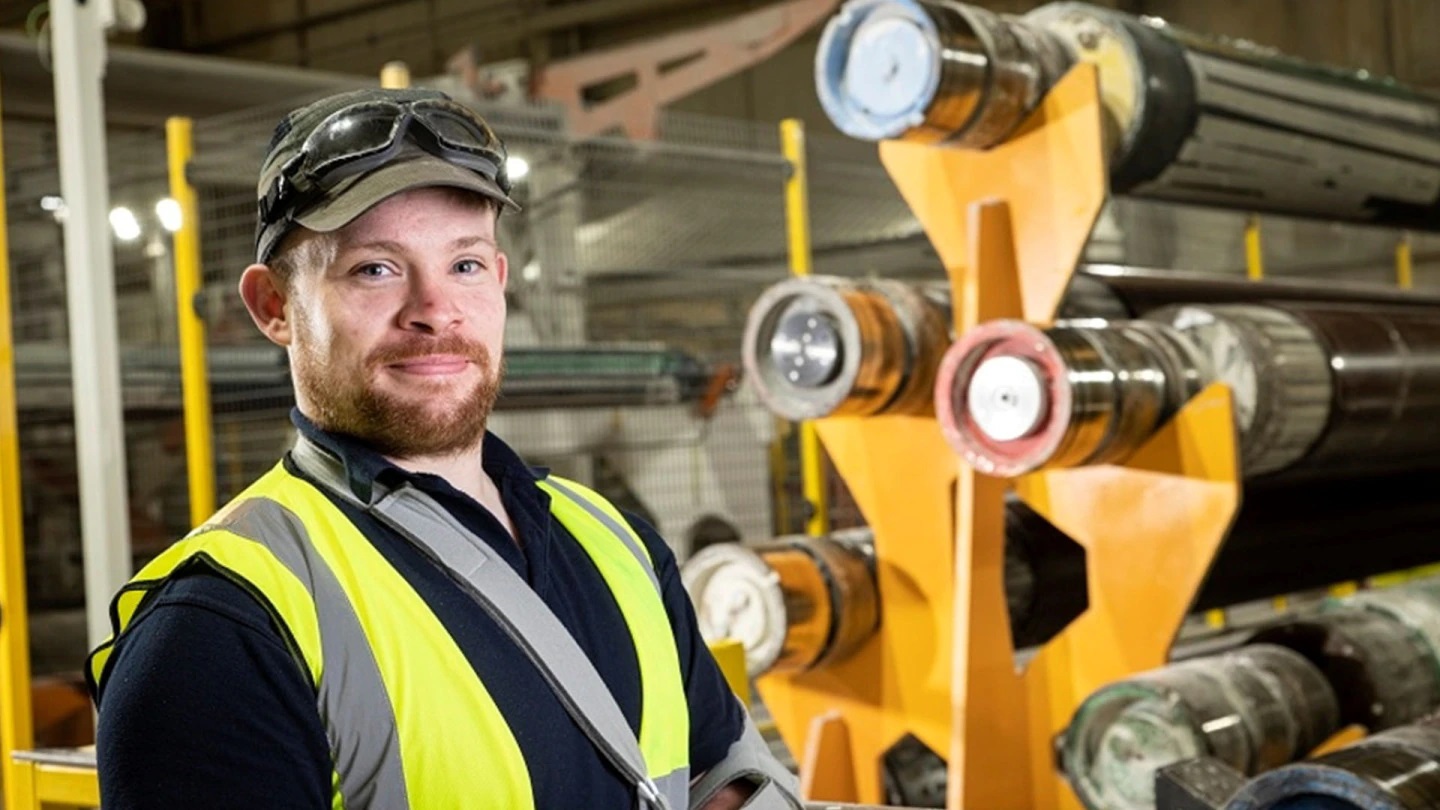 Could you tell me what you do at Essity and what your job title entails?
My title is Technology Area Manager in Material and Energy Savings. The title is fairly descriptive; I'm responsible for material and energy saving initiatives, primarily within the papermaking side of Essity's operations. That can be implementation of best practices, through to supporting sites with Capex initiatives (or any other initiatives we can do in terms of material and energy saving). More and more, my role is focusing on carbon reduction projects. For example, I'm the owner of the science-based targets roadmap for our UK manufacturing sites. We have a CO2 reduction initiative in Essity, and my role involves supporting the UK sites in reaching their targets with technological solutions and implementation of best practices.
Pre-pandemic involved a lot of travel to sites within Europe, allowing me to work within different locations and cultures. During the pandemic, travel has been restricted but I've still been able to support our UK sites.
How did you end up in this position and do you enjoy it?
I studied Chemical Engineering at the University of Strathclyde in Glasgow and started working for a consultancy in Manchester dealing with Process Risk in the Oil and Gas Sector. From there I applied to the Essity Graduate Scheme in Manchester and I was offered a position at their North Wales Site. I worked there as a graduate from 2015-2018, focusing on the paper-making process. I then applied for the job that I have now.
I enjoy the work for a number of reasons. It's something that has importance within Essity but also within society on a wider basis. Carbon reduction is critical for our long-term future and there's a cost-saving aspect that's also important. I care deeply about the fact that my job actually benefits people. There's no limitation to what I can be working on, depending on location and requirements. My job has huge variety which avoids stagnation.
Essity's priorities are evolving with regards to science-based target initiatives which means a huge emphasis has been placed on carbon saving and my team and I are really involved in that.
Day to day I'm working with outside suppliers, sharing things with the site, taking things from conception to delivery, and being an interface to keep things moving on projects.
How do you work on sustainability at Essity and what is an example of a previous project that you've worked on?
I'm working on projects that are seen as 'new ways of working' within Essity that allows me to be in contact with stakeholders that I wouldn't usually be in touch with which has been really interesting.
In terms of a previous project that we've worked on in my first few years in this role, one of my jobs would be to go to site and support the team based there to optimise the drying process on one of the paper machines to improve safety and/or reduce energy consumption. I would take a suite of measurements and make adjustments to make the process safer and/or more energy efficient. Not only that, to ensure the knowledge was retained at the site I would train the teams in the theoretical and practical aspects of the process. However, the site teams have many priorities and it is not practicable for them to manually monitor a situation on a continuous basis. So the next step is to automate the process and I have been working with sites in Belgium and France to develop this further.
Doing this during the pandemic when we couldn't travel was incredibly challenging. We had to ensure the knowledge was properly transferred from one site to the other. In the end, we were able to realise the project and achieve significant gas & CO2 savings from it. We're still continuing the optimisation and are now rolling it out to other sites which will be hugely rewarding. We also work to further improve the solution by leveraging Essity's knowledge in the area of Data Science & Analytics. This will support the company's efforts in digitalisation.
How do you see your role as a leader?
I don't have any direct reports, but I work within a central support function of Essity. We need to act as leaders without having that formal management relationship, so you need to be able to influence others to make decisions rather than being directive.
It's been something that I've grown into. When I started I had two years experience working on one paper machine. To go from that to a role within a central part of Essity is not that common, so it's been a process of learning. You could be speaking with a highly experienced operator one day and then the director the next day, so you need to be able to tailor your messages depending on who you're speaking to, and what are their priorities & areas of expertise.
Is there anything else that characterizes the leadership at Essity?
There's an encouragement to improve and do better. Essity isn't content to stand still so if you have a good idea with a justifiable rationale, people are open to it.
The culture is really inclusive and there's a no-blame culture. If you try something and it doesn't work, you learn from it. One of the first things my previous manager said to me was: "you will fail". This was really important for me to hear as it is liberating and gives courage to be bold and open to new ideas.