22 Apr. 2021. The UK's caffeine addiction sees us drink around 35 billion cups a year, but that comes at a huge environmental cost.
We throw away more than 2.5 billion disposable coffee cups annually, and around half a million tonnes of ground coffee waste goes to landfill.
The coffee industry also contributes to the UK's carbon emissions, which the government has pledged will be neutral by 2050. Some coffee companies think they have the solutions to help tackle these problems.
You drink your coffee from this cup like a Viking drinking mead from his horn.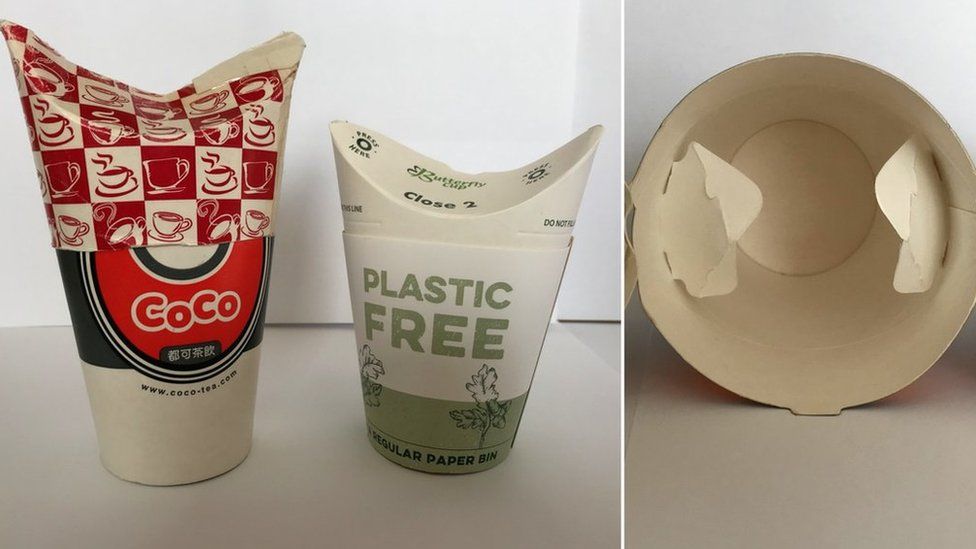 Called a ButterflyCup, it's 100% paper - there is no plastic coating - and nor is there a lid.
Or rather, you create the lid by doing two simple folds after your drink is poured. It was developed by a pair of entrepreneurs in Ireland.
"We believe it is the world's most environmentally friendly disposable cup," says Tommy McLoughlin, chief executive and founder of ButterflyCup.
It's been a long time in the making, but a previous food business Mr McLoughlin ran helped subsidise a decade-long quest to bring the cup to market. He and business partner Joe Lu finally perfected their product - just as Covid struck.
Reality Check: Coffee cups and recycling
University cuts coffee waste with simple change
The coffee companies brewing up a storm in lockdown
The pandemic has slowed down take-up of the cup, but it has still been adopted by organisations including the Wildfowl & Wetlands Trust (WWT), which operates centres across the UK, Columbia University in New York, and Burger King. The fast-food giant is using it in Indonesia for serving ice cream.
A global manufacturer and distributor is also piloting the beverage holder.
The cup works out slightly more expensive than the typical disposable ones containing plastic, says Mr McLoughlin. This may prevent some large chains from adopting it, since they operate very fine profit margins at vast scale.
But the ButterflyCup is cheaper than the compostable ones with separate cup and lids, he says.
Although his product has no plastic lining or lid, there are still some challenges to recycling it.
Its material can be pulped along with things like cardboard, but mainstream recyclers tend only to accept cups when collected separately, citing fear of contaminants.
So even if you put this cup, or similar ones, in the recycle bin, it may end up being rejected at the recycling centre - for now.
However, the cups can also biodegrade naturally, or be composted, says Mr McLoughlin.

The full story, by Dougal Shaw, which includes a look at coffee grounds and transportation, can be found at: https://www.bbc.co.uk/news/business-56582456
Information on the Butterfly Cup can be found at https://butterflycup.com/