1 Feb. 2021. James Lake is a UK sculptor who writes: "When I first started making sculpture I decided to use cardboard as my medium of choice. I wanted a medium that can be used to sculpt beyond traditional material and without the need of an arts studio. The end result was the fine crafting of an inexpensive common place and recyclable material. I manipulate cardboard into taking a form which is vastly beyond its original function as a container to transport food and commercial goods.
I started this sculpture by thinking how much it had previously rained and the frailty of human existence. As I began making the TV, the corona virus came into focus and the public consciousness, and then drastically impacted and changed everyone's life forever. The effect of this virus has reminded me how we are one world, one people: fragile at our core, but strong through strength of unity.
Watching the fragile nature of the world, the environment, and the people who live in it, it does feel like some days we are running out of time, but I am still hopeful! As Amnesty International says 'What unites us is greater than what divides us'
The impact of the Coronavirus has been devastating; the UK and worldwide Lockdown has effected every part of the economy, and the welfare of society as a whole, the question 'are we still living in a time of profit before people?' has never appeared to be so pertinent.
I wanted to make this a 2-part sculpture that could also operate as an installation where you could sit next to or look over the shoulder of the seated figure to join them in watching the worldwide events unfold.
In wanting to make the TV a significant focal point for my seated sculpture, I wanted to include reference to symbols that had appeared recently, such as the NHS rainbow. I also wanted to reference the fragile nature of the world and faltering political responses to the requirement to care and protect its people. I have chosen a selection of films and documentaries that have become paper DVDs in the sculpture as a way of considering current, past, and potential future events as points for reflection.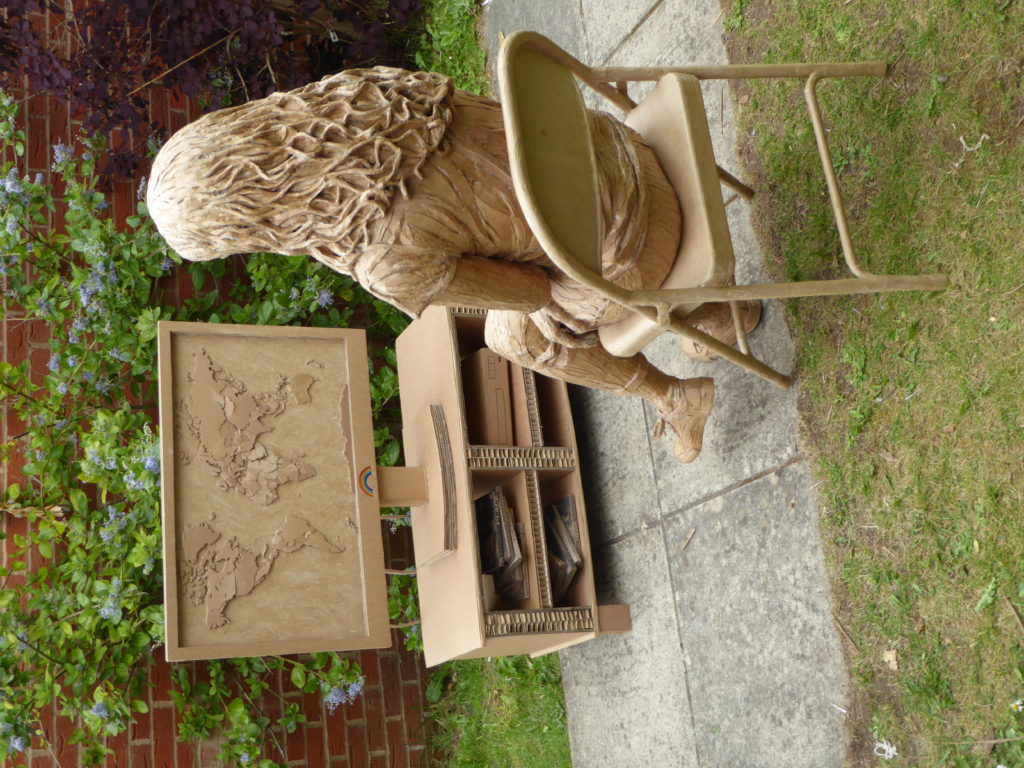 http://jameslakesculpture.co.uk/personal-works/