13 Jan. 2021. A hospital assistant says folding more than 150 paper animals, skeletons and Yodas has "got him through lockdown".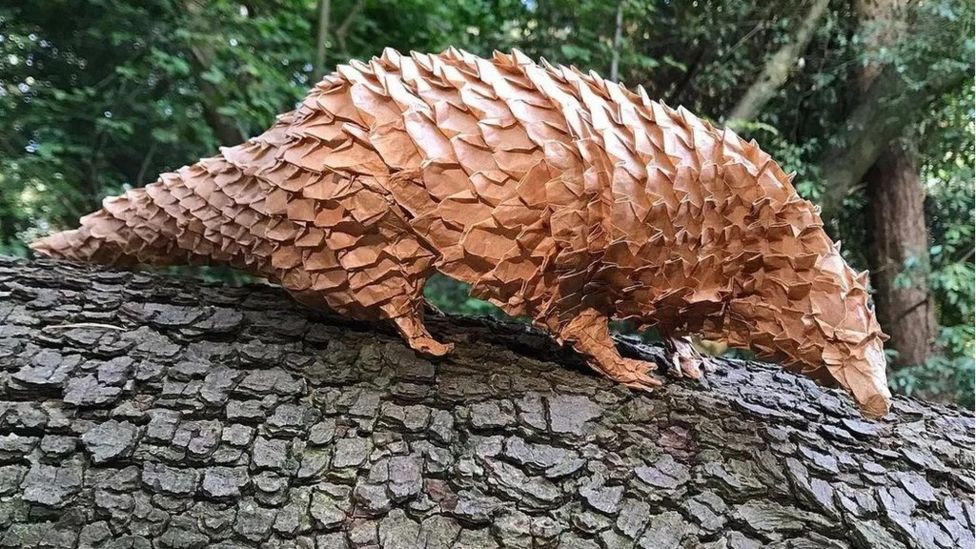 Alex Ray, who works at Bristol Children's Hospital, has been practising origami for 20 years, but since the start of the pandemic his paper passion has "gone a bit crazy".
He said: "Since lockdown, I've made three times what I normally would and I'm running out of places to put them.
"I've also been working on the complex ones, which can take weeks to make."
Mr Ray said he began folding sheets of paper at the age of eight or nine, after his father taught him how to make a Samurai hat.
"I started teaching my friends at school how to make water bombs, mainly, and that's when I got into it," he said.
"And when my dad had a stroke, origami got me through it. It takes you into a different world."
Often using just a single sheet of paper, Mr Ray has creased and folded thousands of models over the years.
Mr Ray said that since March, he had been able to concentrate on the more time-consuming "complex models".
"I like the realistic ones. The pangolin is made from a one metre piece of Kraft paper and took over a week to fold," he said.
"I've wanted to fold it for years but never thought I would be able to make it.
"It's definitely my favourite and has pride of place in the lounge."
With a giant Yoda, dinosaur skeletons and a 3m (9.8ft) long cobra, Mr Ray said he is running out of space.
"There's not many left. I had to throw out about 200 of the older less complex models, because they fell out of shape," he said.
"The rest - I've given a lot out to the children at the hospital and to the patients.
"But [origami] is what's got me through, it's incredibly therapeutic."
For more examples of Alex's art visit: https://www.bbc.co.uk/news/uk-england-bristol-55498802