The UK tissue industry continues to support the public during the COVID-19 crisis and to innovate with new products. In a previous news item we made mention of WEPA's latest news – installation of a new tissue machine. In this item are stories from the remaining UK manufacturers: Essity, Kimberly Clark, Northwood and Sofidel.
Essity makes donation to dementia charity Chrysalis
ONE of the Tyne Valley's largest employers has made a cash donation to help a local charity get back on its feet. A sale of toilet rolls to contractors working at the Essity paper mill in Prudhoe has raised more than £500 for Chrysalis Club.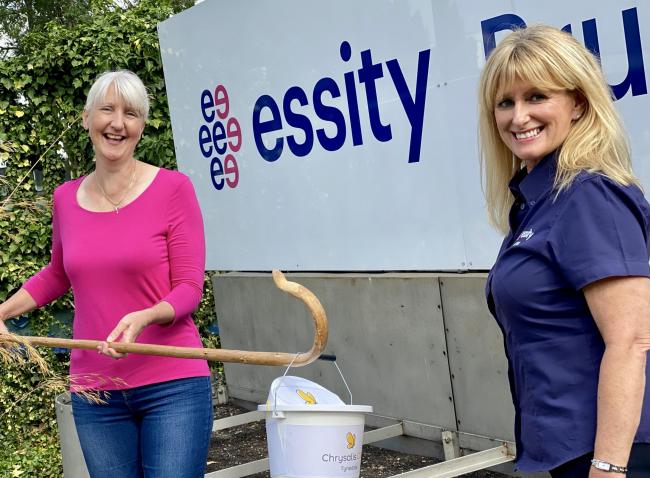 The charity, which is based at the Torch Centre in Hexham, supports people living with dementia and provides an activities club for individuals with the condition, as well as a self-help group where family members can share their experiences and gain valuable information.
In recent months, activities at Chrysalis have been suspended due to the coronavirus pandemic, but now volunteers are trying to reinstate some safe alternatives.
Essity made a £520 donation to help re-establish a scheme to bring the charity's good work to Prudhoe.
The money was raised by giving contractors working at the mill a giant pack of loo roll, in return for a donation to the Chrysalis Club.
Trustee Helen Ord said: ""We've been trialing socially-distanced meetings for our members at Hexham Mart, which is very spacious and allows us to implement the appropriate safety measures.
"It's lovely to see how our members and their families are enjoying being back with their friends, albeit in a rather different set up.
"When coronavirus struck, we had just started running some pilot classes in Prudhoe at the Riverside Café, and hope to start up again soon in an alternative, larger venue."
https://www.hexham-courant.co.uk/news/18687880.essity-makes-donation-dementia-charity-chrysalis/
Barrow-based manufacturer ensures public it has 'more than enough' toilet paper to cope with demand
A BARROW-based toilet paper manufacturer has reassured the public that it has 'more than enough' supplies to cope with demand if customers begin panic buying.
Kimberly Clark in Barrow has squashed concerns that the nation may face another toilet paper shortage if the country goes back into lockdown.
The manufacturer said it had seen a 'moderate increase' in demand for Andrex toilet tissue, but it has 'more than enough' products to ensure a steady supply across the UK.
Ori Ben Shai, managing director at Kimberly-Clark, UK & Ireland said: "We are currently seeing a moderate increase in demand for Andrex toilet tissue and we have more than enough product in our distribution centres to ensure a steady supply across the UK.
"Our supply chain to our retail partners is running smoothly and based on learnings from earlier in the year we're confident and well equipped to respond to, and meet, increased demand when required.
"We always encourage our consumers to shop normally to help shops keep up with demand and ensure everyone continues to have access to essential products like Andrex."
The statement comes after a number of supermarkets announced they were introducing limits on some supplies including toilet paper.
Tesco and Morrison's have both said they are limiting sales of key items including toilet roll, dried pasta and flour to prevent a repeat of the panic-buying in the early days of the coronavirus pandemic.
https://www.nwemail.co.uk/news/18756060.barrow-based-manufacturer-insures-public-more-enough-toilet-paper-cope-demand/
Northwood Hygiene Products launches new proprietary washroom system
Following a major investment in its Telford plant, leading manufacturer and supplier of Away-from-Home (AfH) professional paper hygiene and wiping products, Northwood Hygiene Products Ltd, is launching a new proprietary washroom system featuring an industry first.
Offering hygiene, cost-in-use, performance and sustainability, the high capacity Raphael collection comprises two toilet tissue and four hand towel dispensers, along with a soap dispenser.
The range features the industry's first twin high capacity toilet roll dispenser, the TwinJumbo, which holds up to 800m of product, precluding the need for frequent replenishment and ordering.
This is a significant advantage at a time when facilities management and janitorial teams are exceptionally busy, as they work to ensure that premises are kept hygienically clean.
Raphael's hygiene credentials are second-to-none. The majority of dispensers are contactless and the others are treated with BioKleen technology, inhibiting the growth of bacteria. Incorporating a single-piece shell, they are easy to wipe clean and all towels and rolls are enclosed.
The system offers competitive cost-in-use. An infinity paper system, allowing users to replenish one roll at a time, ensures that waste is kept to a minimum. The units are free, with the exception of the Electronic Roll Towel Dispenser, which is subject to a loan agreement.
The collection is suitable for the most challenging washrooms, with high performance dispensers constructed from durable Acrylonitrile Butadiene Styrene (ABS) plastic and so scratch and impact resistant; they are also lockable, preventing theft and untidiness.
The range consists of pure pulp and 100% recycled products, many of which are Forest Stewardship Council (FSC) certified, reflecting Northwood's commitment to environmental sustainability throughout its operation.
Roll inserts are made from recycled bottle tops and can be recycled after use. A selection of products are wrapped in paper which may be recycled and all products are boxed in recycled and recyclable cardboard.
Created with the end user at the heart of the design process, Raphael encapsulates the art of modern washroom dispensers. The sleek smoke and blue units are translucent, while the white one features a transparent rear panel, allowing stock checks to be undertaken swiftly. All have been engineered to enable quick refill.
Distributors stand to gain from the new proprietary range, which features a robust patented lock-out system facilitated by the investment, with mechanically fitted inserts that cannot be removed manually. A training academy has been launched in order to help them to effectively sell the range.
Said marketing manager, Paul Mulready: "We are excited about Raphael and the many benefits it offers to customers requiring hygienic, high capacity systems for high footfall washrooms. We've invested heavily in the new line and are confident that it will prove popular with end users and distributors alike."
Rare within the industry, family-owned Northwood is a vertically integrated group of associated companies, the activities of which include recycling, parent reel production, converting and logistics. Established in 1974, Northwood operates nine UK and two European sites and its market encompasses a diverse array of sectors, ranging from healthcare, food processing and education, to hotels and offices.
https://technology.risiinfo.com/tissue/europe/northwood-hygiene-products-launches-new-proprietary-washroom-system
Sofidel's commitment to more sustainable packaging continues
The replacement of polyethylene packs for all sizes of Regina Blitz household paper towel in the UK and Ireland is now complete, and the Sopalin L'Expert kitchen towel wrapped in kraft paper has arrived in France.
Several new packs have arrived on various European markets made of kraft paper, a plant-based material that is renewable and easily recyclable, replacing or complementing existing products.
Following the launch of Regina Blitz household paper towel (single-roll wrapped in kraft paper) on UK supermarket shelves in mid-October 2019, the Regina Blitz two-roll and three-roll kraft paper pack sizes have also debuted in the UK and Ireland in summer, completing the replacement of the entire product range with more sustainable packaging. Regina Blitz, a real must-have in this market, is a household paper towel that, thanks to its maxi-sheets and unique texture, allows all domestic surfaces to be quickly and effectively cleaned in a flash, without leaving any fluffy residues.
In France, on the other hand, the Sopalin L'Expert kitchen towel has debuted in June packaged in kraft paper. As the pioneering brand on the French kitchen towel market, with its three-ply, thick and resistant paper, the Sopalin L'Expert product is designed to help consumers clean their homes, particularly glass and glossy surfaces, representing an extention of the "Blitz" product concept in the French market.
https://www.sofidel.com/en/news-items/sofidels-commitment-to-more-sustainable-packaging-continues/