Inspired by a desire to help create more sustainability in the packaging options we use every day, award-winning British manufacturer Transcend Packaging has unveiled a fully-recyclable and biodegradable U-bend paper straw. Ribena will be the first UK juice drinks brand to introduce the sustainable straws to its drinks cartons, with the new packs now available in Tesco as part of a trial of the new paper straw design.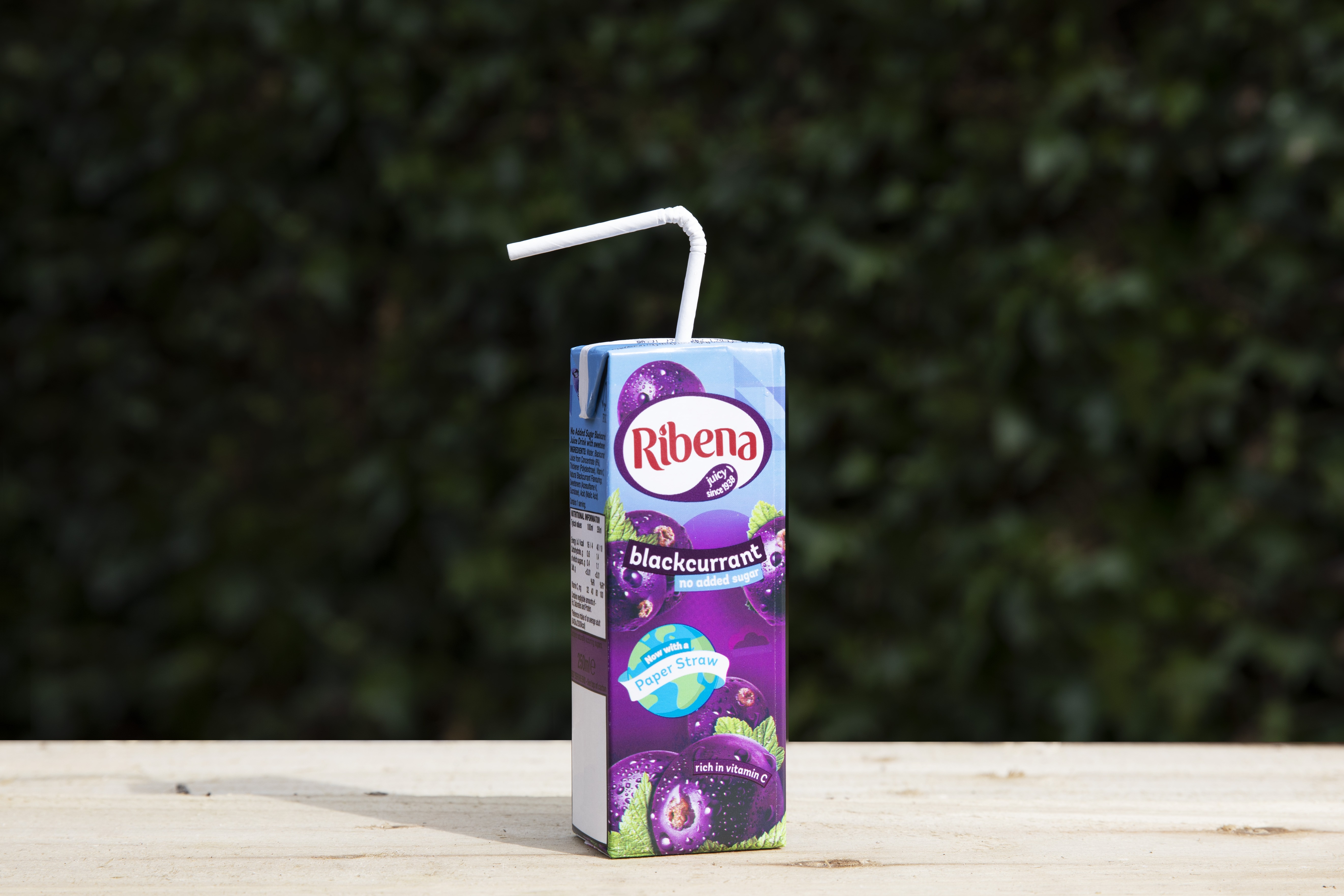 With single-use plastic straws thought to account for 4% of all plastic waste globally and 2,000 tonnes of plastic straws believed to end up in the world's oceans every year[1], the new paper straws can make a meaningful contribution toward reducing plastic waste.
Available to be adopted immediately by drinks companies and bottlers, Transcend's ground-breaking paper U-bend straw is a major step in replacing some of the millions of plastic straws being used in the UK daily.
Already the UK market leader in paper straws, Transcend's new U-bend paper straws represent a technological advancement in paper straw construction. Alongside their introduction to Ribena's drinks cartons, the straws have completed successful industrial trials on both SIG and Tetrapak lines, setting the stage for enhanced sustainability for nearly all drink cartons in the marketplace utilising this format.
Lorenzo Angelucci, CEO at Transcend Packaging said: "Anyone who has ever had a carton drink will instantly recognise the bendable plastic straws on the side of juice boxes found in supermarkets, cafes and packed lunch boxes across the country. The problem is these straws are used just once but then the plastic remains, as the straws are not often recycled.
Because these straws need to be bendable and sharp enough to pierce the seal on the drink, it has traditionally been thought to be very difficult to create them from paper. Our new U-bend straw represents a significant design advancement and we are deploying it into the market at scale to provide drinks brands with a more sustainable option for their products."
Jo Padwick, Business Transformation Manager at Suntory Beverage & Food GB&I, comments: "Further improving the recyclability of our cartons is an important step in achieving our 100% sustainable packaging by 2030 ambition, but for full circularity, local authorities need to work with brands to ensure cartons and straws are recycled. Currently only 65%[2] of local authorities collect cartons from household waste which is why we're welcoming national governments' moves to introduce consistency in household recycling collections.
"Developing a bendable, durable paper straw, hasn't been easy but recycling it should be. We've conducted hours of consumer testing to make sure our new paper straws can puncture the carton, that they don't become soggy, and that Ribena lovers enjoy the feel of sipping from them. Now that they're out in market we can gather even more feedback before rolling the straws out more widely."
Reducing the Environmental Impact
Transcend's work with Ribena to bring the U-bend paper straw to market will help this leading brand move forward on their ambitious sustainability goals, preventing up to 16 tonnes of plastic waste, per year[3].
Angelucci concluded: "Whichever way you look at it, finding a viable alternative to plastic straws is important because they often go unrecycled. Additionally, by sourcing paper straws from within the UK, brands can reduce their carbon footprint compared to shipping products over long distances and eliminating the quality control challenges of relying on imports from outside of Europe.

The British sustainable packaging industry is right at the forefront of innovation, so it is important for leading brands to have sourcing options from within their own shores for their supplies."
A Paper-Bending Breakthrough
Mark Mitchell, Sales Director for Transcend's U-bend straw, spoke of the complexities of the operation: "Engineering a bendable paper straw that could pierce through the foil film on a drinks carton whilst retaining its own form was a real challenge, but we are delighted to say that the new straw satisfies both of these requirements."
Made from sustainably sourced paper, the straws can be recycled in their entirety alongside any other paper product.
Lorenzo Angelucci concluded, "We believe this innovation will be significant in the adoption of paper straws and are working toward a production target of several billion U-bend straws per year ahead of July 2021."
Footnote [3]: Annually SBF GB&I consume 40,000,000 straws equalling 16 tonnes by weight
About Transcend Packaging:
Transcend was established in 2017 to provide sustainable packaging solutions to customers in the food service, food and beverage and health and beauty industries.
Transcend has a manufacturing facility in South Wales that began production in 2018 and was the first major producer of paper straws in the UK.
Transcend Packaging aspires to be a different kind of packaging company. With a leadership team boasting extensive experience in the international packaging industry, the company's objective is to deliver on the promise of what is possible in packaging, for clients, employees, and the environment. Transcend works everyday with major international brands to enhance the sustainability of their packaging products and is the European leader in paper straw production.
In 2019, Transcend was named Economic Disruptor of the Year for the Northwest and Wales by The Spectator and Julius Baer. It also collected the National Runner Up award for the UK.
About Ribena:
Ribena has been leading the way towards sustainable packaging for over a decade, becoming the first UK drinks brand to make bottles from 100% recycled plastic all the way back in 2007.
About Suntory Beverage & Food Great Britain and Ireland:
Suntory Beverage & Food Great Britain and Ireland (SBF GB&I) is one of the leading soft drinks businesses in the UK and Ireland. SBF GB&I was formed in 2014 as Lucozade Ribena Suntory and is part of Suntory Beverage & Food Europe. Our much-loved soft drinks brands include Lucozade Energy, Lucozade Sport, Lucozade Revive, Ribena, Orangina and MayTea.
Our business is driven by our "Yatte Minahare" spirit and our role is to have a positive impact on the lives of our consumers by providing them with a responsible choice of great-tasting drinks that people can feel good about while enabling them to lead active lifestyles.
21 September 2020