Drinks giant Diageo has created a paper bottle it will use to package a limited edition run of Johnnie Walker whisky. The bottle is made from sustainably sourced pulp, and will be "fully recyclable in standard waste streams", according to a statement from Diageo.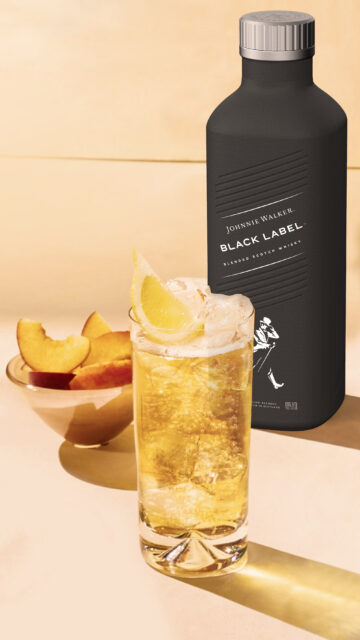 The Smirnoff vodka owner has forged a partnership with venture management company Pilot Lite, to launch a new business aimed at sustainable packaging development for major food and drinks manufacturers, called Pulpex Limited.
Diageo said it is the first drinks group to develop a recyclable paper spirits bottle, but companies all over the world have been toying with eco-friendly packaging for some time.
Danish brewer Carlsberg has been working on creating the "world's first paper beer bottle" since 2015. The company revealed two prototypes for the bottle last October, after working with green startups EcoXpac and BillerudKorsnäs, and post-doctoral researchers from the Technical University of Denmark. The collaborative project resulted in the creation of paper bottle company Paboco, which also works with firms including Absolut, Coca-Cola and L'Oréal.
Last month, British sustainable packaging company Frugalpac launched a wine bottle made from 94% recycled paperboard, which it said has a carbon footprint 84% less than that of glass.
Back in 2011, the drinks business received a visit from a company attempting to launch a paper wine bottle in the UK. Documents filed on Companies House show that particular business, called Green Bottle, was dissolved in 2015.
Carlsberg's designs are made from sustainably-sourced wood fibres and have an "inner barrier" allowing the bottle to hold beer. One uses a thin recycled PET polymer film barrier, while the other has a bio-based PEF polymer film barrier.
However, the paper bottle Diageo is launching is lined with a spray coating instead of a plastic film barrier, which the company claims makes it the "world's first plastic-free paper bottle".
Ewan Andrew, Diageo's chief sustainability officer said: "We are constantly striving to push the boundaries within sustainable packaging and this bottle has the potential to be truly ground-breaking."
Pulpex Limited has established a partner consortium of global food and drinks companies such as Diageo, Unilever, and PepsiCo. The consortium partners all plan to launch their own branded paper bottles next year.
Diageo's bottle will be trialled on a limited edition run of Johnnie Walker whisky in spring 2021. A spokesperson told the drinks business there are no further plans to package Diageo products in paper bottles, as this is part of a trial project with the rest of the consortium, but the company is "always looking for more sustainable innovations, and this is very exciting for us."
(Edith Hancock, 13 July 2020, www.thedrinksbusiness.com)