A group of businesses have raised funds to support NHS nurse Sophie Holgate repair her car, which had been vandalised as she worked her night shift at Doncaster Royal Infirmary, during the coronavirus crisis in April.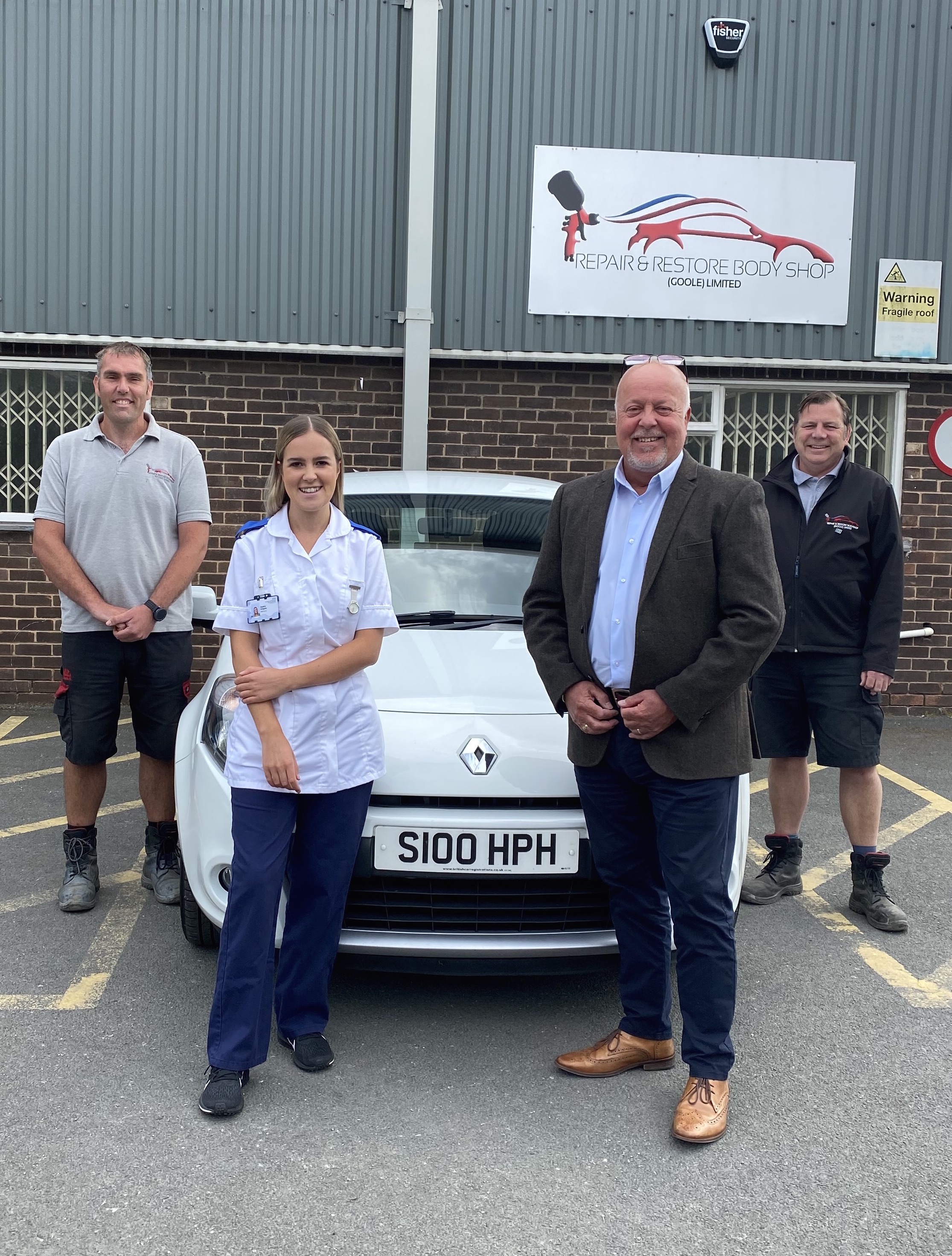 From left to right: Carl Smith, Sophie Holgate, Jon Jinks, Andy Etherington.

The vandals crushed and scratched the car roof as it was parked outside the hospital and due to the cost of repairs, Sophie faced having her car written-off due to the cosmetic and structural damage done.

A fundraising campaign on Facebook was set up to help Sophie by Rigid's Group HR Director Sonia Card. As part of their community support ethos, Rigid Containers contributed to the fund, together with local garage Repair and Restore in Goole, located near to Rigid's Selby site.
A courtesy car was supplied for the duration of the repairs allowing Sophie to continue to get to work and thanks to all involved the car now looks as good as new.

"I am blown away by the generosity of friends and local businesses who have helped bring my car back to me," said Sophie.

"I was devastated when I saw the damage done by the vandals back in April. Having worked a nightshift and being parked in the hospital carpark, it was the last thing I expected to have happened.

"This repair means I can continue to get to work as normal and carry on doing the job I love, caring for others while they are in hospital. I just want to thank everyone who has been involved in helping me – you're all amazing!"

The car was handed back to Sophie by Carl Smith and Andy Etherington from Repair and Restore alongside Jon Jinks the operations manager for Rigid.

About Rigid Containers (www.rigid.co.uk)
Rigid Containers is part of the VPK Packaging Group – one of the fastest growing independent European manufacturers of recycled paper and corrugated cases and a turnover of over 1.3 million euros. Apart from the UK, it has a network of operating plants in Belgium, The Netherlands, France, Germany, Poland, Turkey, Romania, Ireland and Scandinavia.

Renowned not only for its innovative approach and agile business model, Rigid is a leader in manufacturing premium secondary packaging, with a strong history of corrugated packaging manufacturing stretching back over a century. Operating from three state-of-the art integrated manufacturing and logistics facilities in England at Desborough, Selby and Wellington alongside its site in Limerick, Ireland the business provides a wide range of corrugated packaging and services.
Through considerable investment over the last 5 years, including a new corrugator, six-colour high quality post print (HQPP) systems and stock management investment the business continues to meet the demands of customers and deliver sustainable packaging products that are fully recyclable, thereby supporting the needs of the circular economy.

From basic corrugated boxes to retail ready packaging and the latest award-winning high-quality graphics for e-commerce solutions, Rigid prides itself on delivering for customers with excellent support across design, manufacturing and customer service departments.