Iggesund Paperboard has stepped up to the mark during the current crisis and donated £10k to a local charity. Meanwhile, one of its staff, Ryan Glover, who in his spare time is also a volunteer firefighter, has done his own charity walk for the NHS. For information on both, read on...
A Cumbrian mill, which is continuing its vital work producing packaging for food and medicine during the coronavirus pandemic, has been thanked for its generous donation to a Cumbrian coronavirus response fund.
Iggesund Paperboard in Workington was thanked by Cumbria Community Foundation this week for donating £10,000 towards its Covid-19 response fund.
The fund, set up just over a month ago, has raised more than £1m in total to fund a range of initiatives both large and small across Cumbria in response to the coronavirus pandemic.
Iggesund's contribution last week will, through Cumbria Community Foundation, help the many efforts across west Cumbria set up to help support communities through the disruption caused by coronavirus.
A spokesman for Cumbria Community Foundation, led by chief executive Andy Beeforth, said on Monday that the charity wanted to say a "massive thank you" to the Workington mill, which is continuing to operate throughout the difficulties caused by the coronavirus lockdown.
Chris Sutcliffe, on behalf of the Workington Mill Sponsorship Committee, said: "Thanks to the commitment and determination shown by our employees, we have managed to keep production going through this global pandemic, which has allowed us to maintain our role in the packaging supply chain to customers in the pharmaceutical and food sector.
"It is a fitting way for us as a company to recognise that commitment by supporting our local community where we can.
"We hope that this donation of £10,000 to the Cumbria Covid-19 Response Fund will help to provide for the needs of the most vulnerable people here in West Cumbria during this very difficult time."
The Workington mill, which makes paperboard for packaging used for a range of products from foods to medicines, often engages in projects aimed at benefitting the West Cumbrian community.
Along with other large employers in the county, Iggesund founded the company Gen2, which provides a range of apprenticeships to young people in Cumbria.
The Workington mill's human resources manager Jonny Lowe explained that the company encourages its nearly 400 empoyees to support education in the local community, by joining committees and governing bodies of local schools, to help "inform young people about the opportunities that exist within our industry."
www.in-cumbria.com/news/ 7 May 2020
Workington firefighter's fundraising walk for the NHS
A 'double keyworker' is going the extra mile to raise cash for the NHS.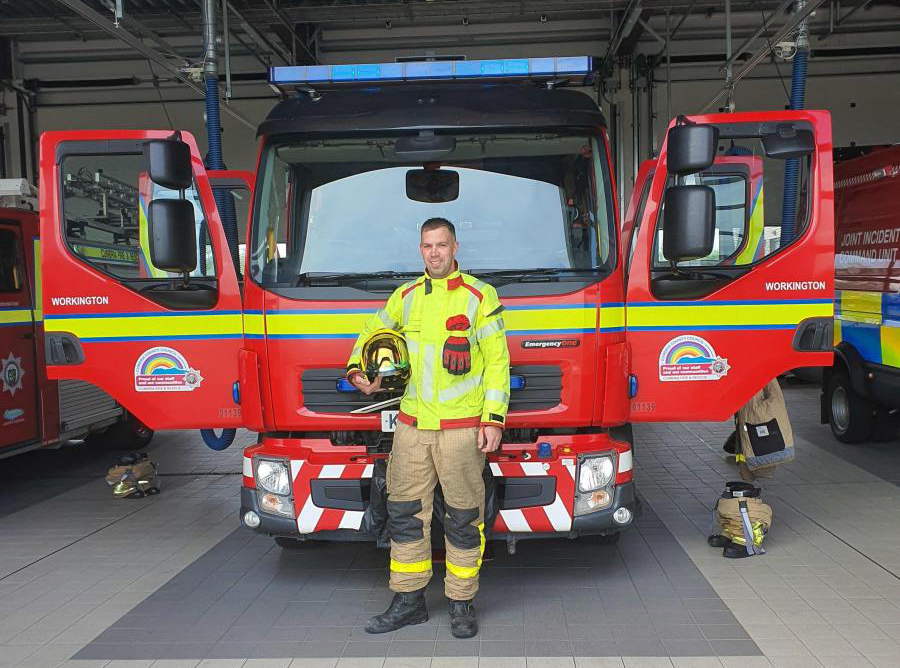 Ryan Glover, 30, works at Iggesund as well as being a retained firefighter and crew manager at Workington's fire station.
Despite working shifts and saving lives when he's not at work, he still wants to spend the little free time he has to raise money for the NHS.
On May 31, he will be walking from the Workington fire station to the Maryport station, then on to Cockermouth station and back to Workington's hospital, where he will pay his respects with a two minute silence to those who have lost their lives due to the coronavirus.
Ryan said: "I'm always wanting to strive for better things. It was a while back when I was thinking what I could do for the NHS and I wanted to do something where I could use my fitness but also that was achievable."
And the 22.7 mile walk wearing his firefighting gear may well turn into more of a challenge.
"If I get to Cockermouth and I'm still doing well, I'll also go to the Whitehaven fire station, that would be over 30 miles," he said.
Ryan wants people to look out for him and give him a cheer while he will be out on his walk.
Ryan is married to Bethanie and has a four-year-old daughter, Ava Rose.
He said: "My wife is very proud and without her support I wouldn't be able to do what I do, working in two roles, especially with a small child."
To donate to Ryan's fundraiser, visit www.justgiving.com/fundraising/ryanglovernhs
www.timesandstar.co.uk/news 25 May 2020 (by Federica Bedendo)