Cardboard boxes, the world's favourite paper-based packaging medium, are a vital tool for helping to transport goods long distances. Therefore they have been in great demand by charities and logistics companies in the fight against COVID-19. Read below how DS Smith, International Paper and Smurfit Kappa have all donated product to help the worldwide fight against this pandemic.
DS Smith (UK)
Over the past weeks DS Smith, the leading provider of sustainable paper-based packaging solutions, has been playing a critical role to support the fight against the Covid-19 pandemic alongside partners including Ventilator Challenge UK, Chivas Brothers and Rolls-Royce Motor Cars.

The company was selected as the provider of choice to deliver packaging for the safe transit of the first government approved ventilator which is being produced by the Ventilator Challenge UK consortium.

Rosa Wilkinson, Communications Director at Ventilator Challenge UK commented: "We would like to express our thanks to DS Smith for its support in this project. Its speed and agility to design, manufacture and supply a packaging solution for the safe delivery of these ventilators was critical."

This time sensitive project involved a number of different materials including three different sized boxes, labels, strapping kits and pallets as well as the co-ordinated production from multiple sites.

In addition, the company has donated thousands of boxes to client organisations to contribute towards their important community initiatives during the pandemic. The donations have helped essential Personal Protective Equipment (PPE) items to be delivered to NHS frontline staff.

In one initiative, DS Smith donated 2,400 boxes free of charge to Chivas Brothers, the Scotch whisky business of Pernod Ricard, which has produced and distributed thousands of litres of hand sanitiser to social care providers and charities across Scotland.

Liam Donegan, Manufacturing Director at Chivas Brothers commented: "It has never been more important to come together as a community, especially to help the most vulnerable and at-risk amongst us. We want to thank DS Smith for its support. Its generosity and speed from enquiry to delivery made this time-sensitive project all the more possible."

Luxury manufacturer Rolls-Royce Motor Cars has also been quick to utilise its capabilities for the production of kits for visors and protective gowns to be delivered to NHS frontline staff. The company is working with almost 1000 sewing volunteers - including a seamstress who is over 90 years old – to help in the national effort to beat the Covid-19 pandemic.

To support the initiative, DS Smith was approached to supply a suitable packaging solution to transport the kits to hospitals, which the company donated free of charge.

For maximum efficiency, the boxes provided were tailored to ship lightweight products and easy to seal with tape. Made out of corrugated paper that is 100% recyclable it also provides an eco-friendly solution for the movement of these essential items.

"It's a privilege to be collaborating so closely with our clients at this time; individually playing our part and collectively making a difference. I'm proud that DS Smith is leading the way with the critical support we're providing to our partners with design-led packaging solutions," commented Chris Murray, UK and Ireland Managing Director at DS Smith.

As part of its global commitment to respond to the demands generated by the pandemic DS Smith's top priority has been the health and wellbeing of all employees. The company has remained focused on supporting all its customers during this difficult period, particularly those providing essential goods such as food, medical and hygiene products.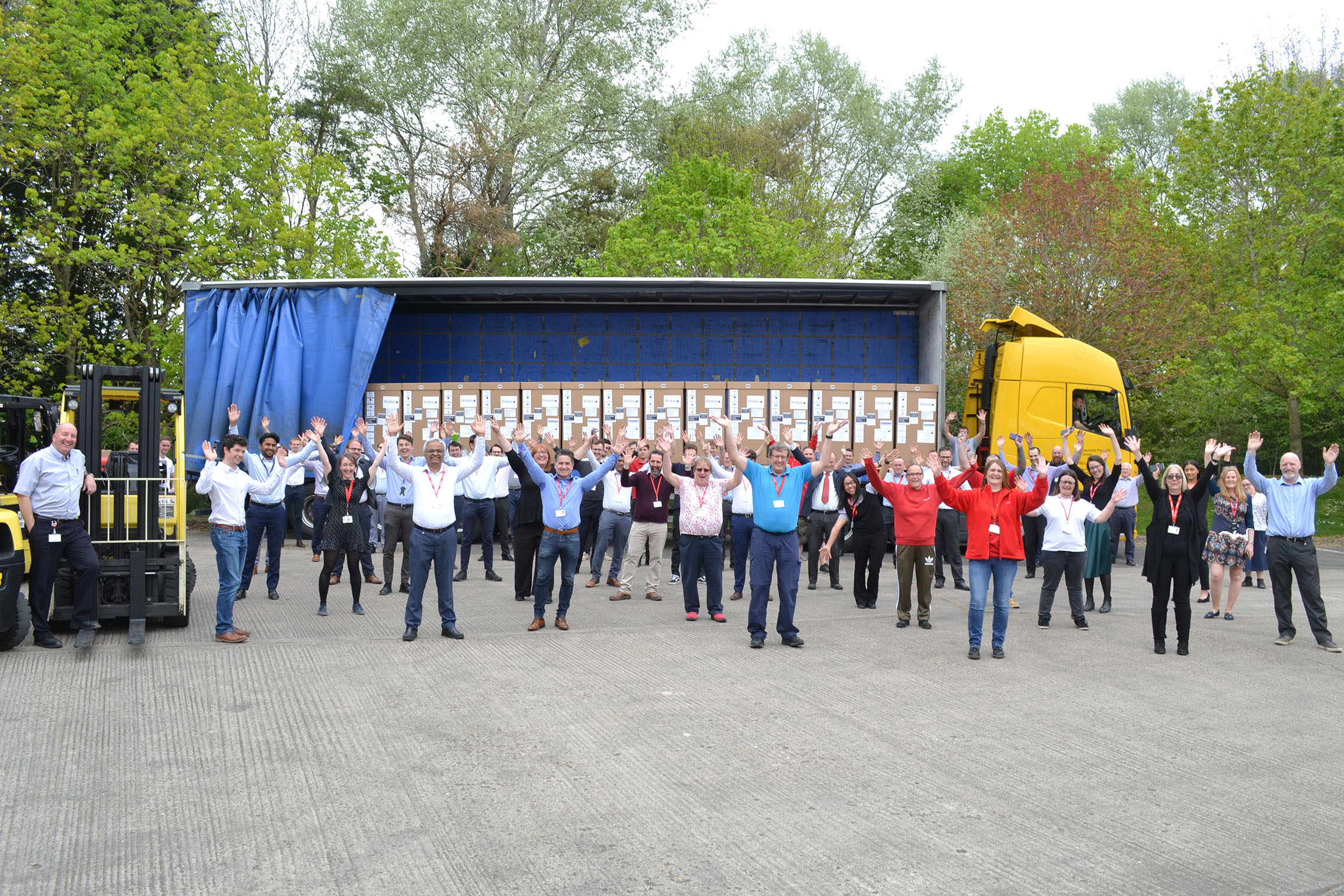 International Paper (USA)
Food banks around the world are experiencing dramatic increases in demand for food assistance driven by the economic impact of the COVID-19 pandemic. Now, more than ever, food banks need support. International Paper (NYSE: IP) is responding with one of its essential products — corrugated boxes. The company has committed to donating two million corrugated boxes to hunger-relief organizations.

This product donation will benefit hunger-relief organizations such as Feeding America® and The Global FoodBanking Network (GFN), among other relief agencies in communities where International Paper employees live and work.

"Our employees are passionate about supporting critical community needs, and we recognize that our boxes are essential for distributing food to people hit hardest by the pandemic," said Mark Sutton, Chairman and Chief Executive Officer. "Our employees and our boxes are helping improve the ability of food banks to serve communities around the world."

Lisa Moon, president and CEO, The Global FoodBanking Network, agrees. "Many food banks have had to shift their model from serving daily hot meals to distributing food rations in boxes. International Paper's gift of two million boxes is extraordinary and desperately needed. Without boxes, we simply cannot get food to people," said Moon.

Increased Need around the World
Feeding America, the nation's largest domestic hunger-relief organization, estimates that an additional 17.1 million Americans could face hunger in the next six months as a result of the COVID-19 pandemic.

"Ensuring the health and safety of our staff, volunteers and our neighbors while serving our communities is Feeding America's top priority. We are tremendously grateful for International Paper for their donation of boxes — an essential component of food distribution during the pandemic," said Claire Babineaux-Fontenot, CEO of Feeding America.

The Global FoodBanking Network believes the coronavirus pandemic could double the number of people facing life-threatening food shortages.

Calling on Others to Give
The company has launched a social media campaign — #HelpFillTheBoxes — to encourage those who are able to donate to food banks in their communities. Taking action in the fight against hunger during the pandemic can be as simple as volunteering at a local food bank or donating money or resources.
www.paperage.com

Smurfit Kappa / SH-Fiske (UK)
Another busy week nearly over. We are delighted to announce that this week we have manufactured 5,000 boxes for local face mask production & 1,000 free of charge boxes for a food bank in South Wales helping the most vulnerable in our society.

Thank you to Smurfit Kappa for supplying the free of charge material. Your generosity is greatly appreciated.

It was announced last night that we are past the peak of this virus but the economical strain will go on. As always we are always #happytohelp and look forward to participating in the reconstruction of our great economy.
www.linkedin.com/company/sh-fiske-limited/