The strange times that we find ourselves in, with COVID-19, has released the creativity of many individuals and businesses, and one of the easiest and most versatile materials that comes to hand is cardboard. Read how it is being used to enhance Sport, Militant Moggies, Eternal Rest and Prayer.
FOOTBALL
Bundesliga club Borussia Monchengladbach are finding a novel way of filling their stadium - with 12,000 cardboard cut-outs of actual fans. Usually supporters are chastised for choosing to watch games from their sofa instead of going to the ground, but nowadays they are left with no other option.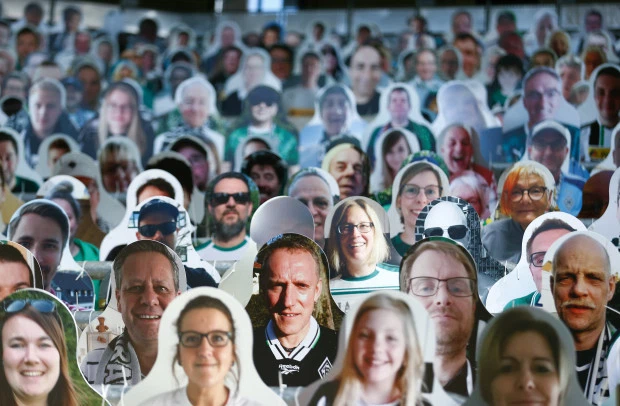 Monchengladbach are filling seats in their 54,000-capacity Borussia-Park arena with pictures that fans have sent in from home. The 'Stay at home, be in the stands' campaign allows the Fohlen faithful to purchase a cut-out bearing their image for just £17, with all profits going to charity. Season ticket holders are being given the chance to place their cardboard likeness at their usual seat. All other cut-outs are destined to go behind the goal in the home Nordkurve end - with Ultras allowed to pick their Block 16 home.

Borussia fan rep Thomas Weinmann admitted they are even struggling to keep up with the demand for the popular idea ahead of their side's return to action. He stated: "The campaign organisers are regularly overrun with orders; we can hardly keep up trying to install them all. But we're obviously delighted with the overwhelming support it's received."

Gladbach sit fourth in the Bundesliga table ahead of its restart this weekend, which has been green lit after 7,778 coronavirus deaths in the country. However there will be plenty of time to install the remaining cut-outs as the side head to Eintracht Frankfurt on Saturday before welcoming Bayer Leverkusen to the Rhineland on May 23. No more than 213 people will be allowed inside the stadium for games, including players and club staff.

And the idea could provide an extra boost to players pushing for a place in the Champions League if their title hopes fade for good. French forward Marcus Thuram said: "When you first come into the stadium, for three or four seconds you don't realise that it's not real people. Sadly, we can't get the same noise from the crowd, but it's still a nice feeling to have the fans there."

Borussia sporting director Max Eberl said ahead of the restart: "Games without fans remove that influence from the stands, whether it be positive or negative; it's all down to the players. "It will be interesting to see which sides deal with it best and perhaps even benefit from it."
www.thesun.co.uk (13 May 2020)

MILITANT MOGGIES
MILITANT Moggies have been enjoying taking over their owners homes - by force if needed. The cats have been showing off in their cardboard tanks, built for them by their bored owners to pass the time.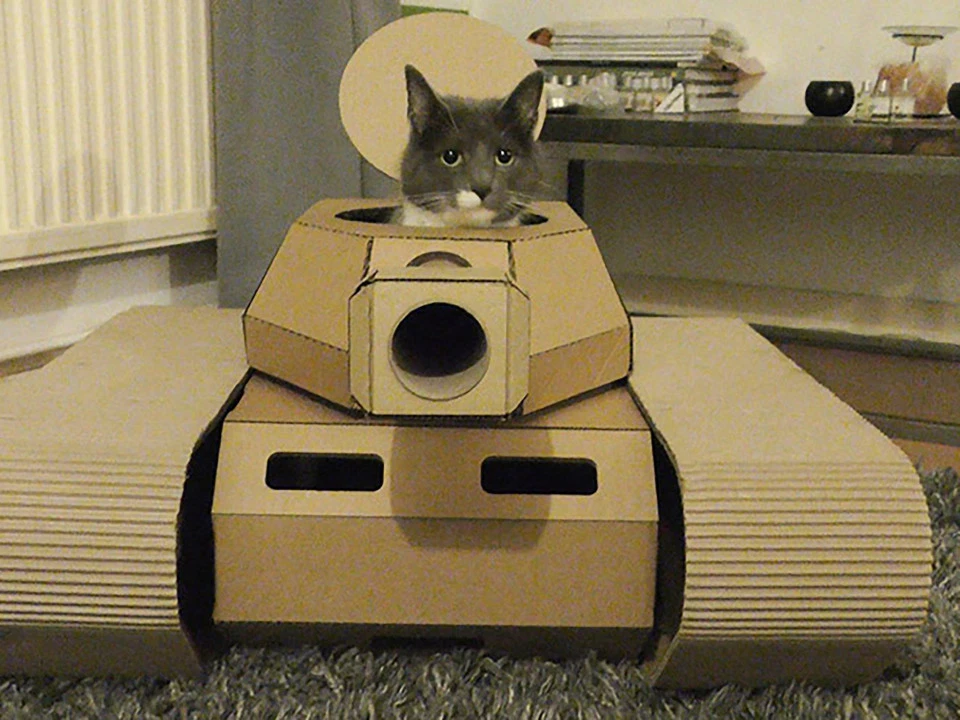 More Tabbies in Tanks can be found at: www.thesun.co.uk

BURIAL
Ecuador has started using cardboard boxes to bury dead, as the death toll is on the rise, leading to a shortage of coffins, city authorities said Sunday.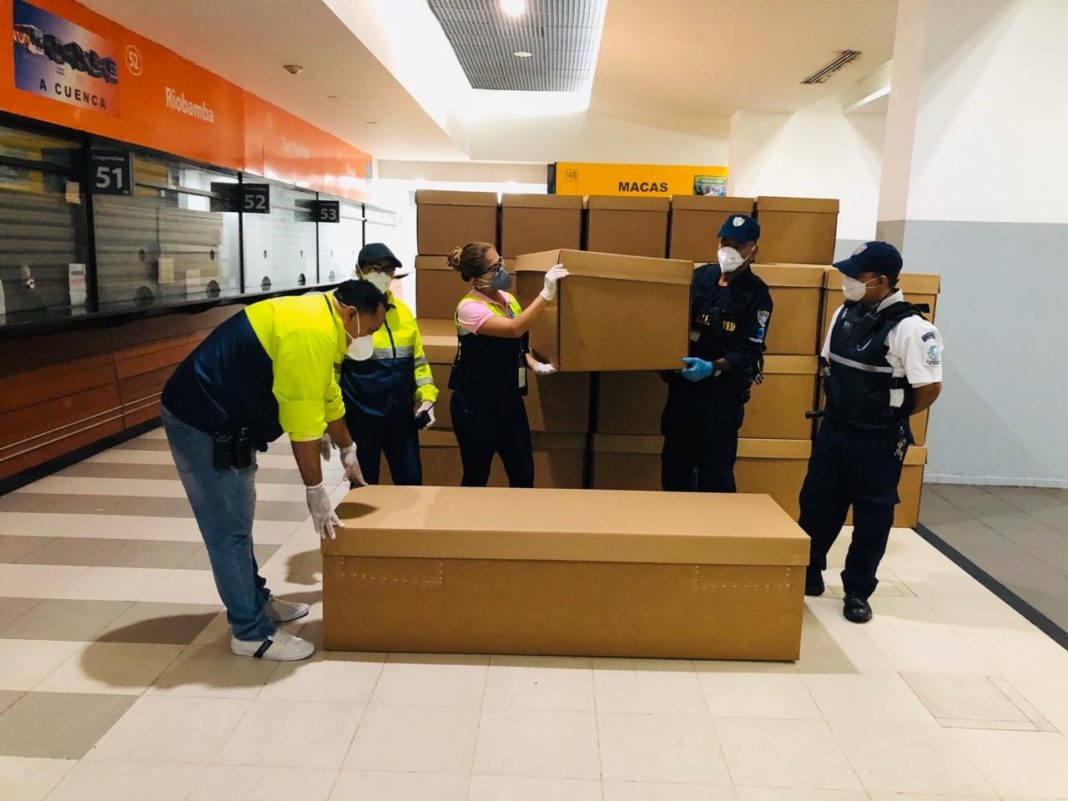 Ecuador's coastal city of Guayaquil, the epicenter of Ecuador's coronavirus crisis, said it had received a donation of 1,000 cardboard caskets from local producers, as the Pacific port city is struggling to handle the soaring numbers of Covid-19 deaths.

"There are either no coffins in the city or they are extremely expensive," a city hall spokesman told AFP.

The previous week, residents of Guayaquil posted videos on social media showing abandoned bodies left on the street, as media report that at least 150 corpses were left on the street or kept in the homes of grieving relatives.

The cardboard coffins "will be a great help in providing a dignified burial for people who died during this health emergency," the Guayaquil mayor's office wrote on Twitter.

To date, Ecuador has 3,747 cases and 191 deaths, however, Jorge Wated, the government's spokesperson sees that in the coming months, the death toll will be between 2,500 to 3,500 from COVID-19 just in the province of Guayas.
www.neweurope.eu (6 April 2020)

RELIGION
A family has created a cardboard mosque at home to mark the Islamic holy month of Ramadan. The Alrawis from Loughborough decided to make their own mosque and decorations as a "fun project" during the lockdown because they could not worship with family this year.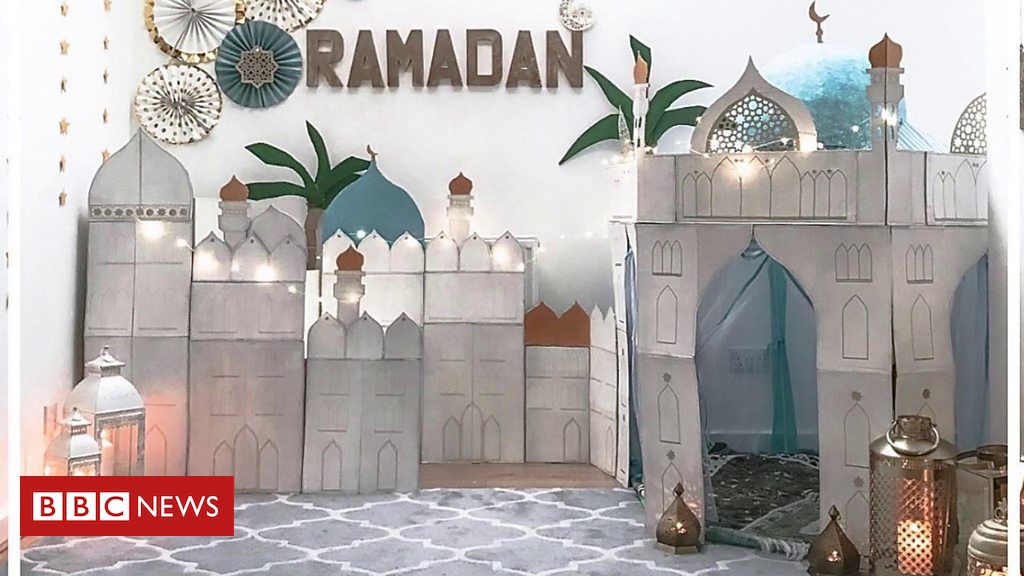 They were inspired by the Arabian mosques they would see while living in Dubai and Qatar.

They have shared the building process on Instagram for people to see the progress.
www.bbc.co.uk/ (7 May 2020)