Burneside-based paper maker James Cropper PLC is doing its bit to help keep children occupied this Easter. It has delivered stacks of large-sized white paper to Kendal supermarkets Morrisons, Asda and Sainsburys – and it's free for people to pick up while they are shopping.
"We know there are children who will be unable to get out and about as usual this Easter because of the rules in place to prevent the spread of coronavirus and we just wanted to help out," explained Patrick Willink, Chief Technology Officer at James Cropper PLC. "Parents can collect paper from the entranceways at the supermarkets and take it home for their children to use as part of schoolwork or simply as a bit of creative Easter fun."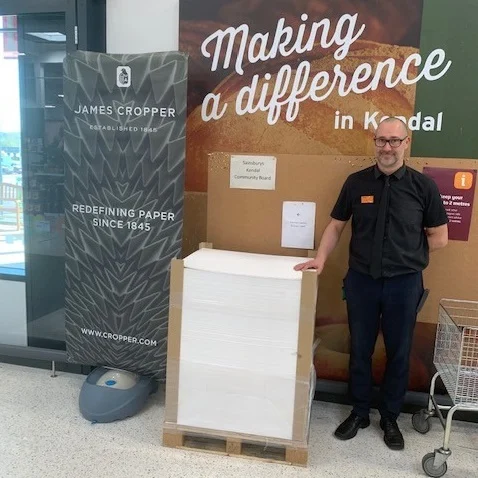 Store Manager Stuart Butters at Sainsburys at Kendal with paper supplied by James Cropper PLC

The paper is free for people to pick up while they were shopping but Mr Willink stressed that they should not make special journeys to the stores to collect it.

He added that staff at James Cropper were always keen to help the local community. At the suggestion of one of James Cropper's 'community champions', paper was originally supplied some weeks ago for people to pick up free of charge from St Oswald's Church at Burneside, but when the church had to close it was decided to take paper out to the Kendal supermarkets.

"This is a relatively simple thing for us to do but it hopefully will make a difference to people's lives," said Mr Willink.

The paper is already proving popular, with three pallets' worth having already been taken from Morrisons.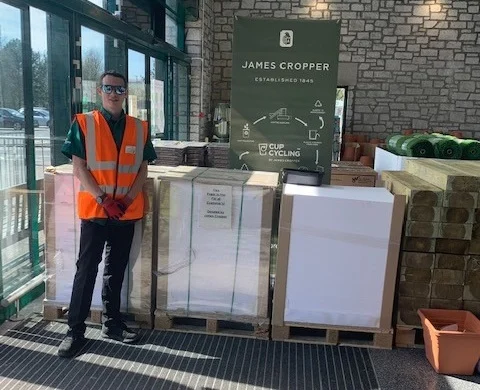 A member of staff at Morrisons at Kendal with paper supplied by James Cropper PLCJames

Cropper's post about the supermarkets initiative on its Facebook page prompted more than 400 'likes'.

Comments included 'Fab – well done Croppers. Let the creating begin!'; 'What a lovely gesture' and 'Thank you James Cropper – we used some of your paper to draw on today'.

From CumbriaCrack, 10 April 2020.