ABB launched: (1) Induction xP Plus actuator; (2) KPM KC9 Optical Consistency Transmitter family; (3) two new features as part of its Web Imaging System; and (4) a new version of the Ability Manufacturing Operations Management software suite.
(1) ABB actuator launches, helping improve efficiency, safety and product quality. New Induction xP Plus is the paper industry's most targeted, efficient and flexible induction heating actuator system for cross-direction (CD) caliper and gloss profile control.

Technology leader ABB today announces the launch of its Induction xP Plus actuator for paper and packaging manufacturers seeking a powerful, efficient, rapid-acting and safe method for controlling caliper on paper machines calenders.

Induction xP Plus rapidly ensures efficient heating up to 100 kW/meter in a highly-targeted area, providing unmatched flexibility for power density and heating zone width. It is the only caliper profiling system available with hybrid control zone configurations of 60 mm, 75 mm or 120 mm, enabling customers to target higher precision heat distribution at the edges, where it is often critical, as well as increasing heat density to get on spec quicker—even after sheet breaks.

"Induction xP Plus significantly enhances our offering as the only actuator featuring ABB's unique power module technology, hybrid zones for targeted heat distribution and flexible layout configurations," said ABB product manager, Frank Condra. "The specification is developed to maximize paper quality and productivity, but crucially, includes an off-machine power module, enabling Induction xP Plus to meet the most stringent industrial safety requirements."

An evolution of ABB's highly-regarded Induction xP actuator, the new Induction xP Plus uses ABB's uniquely efficient fixed frequency/soft switching technology which, in tandem with a lower voltage design, ensures negligible switching losses and lower stresses on electronic components. Induction xP Plus also features serial communications to the power modules, a three-phase power bus distribution system and advancements in the mower module and workcoil. These features combine to deliver the lowest CD caliper variation and associated improvements in reel build, while also providing the best sheet finishing for gloss, smoothness, and printability.

ABB's Induction Profiler is an integral part of the ABB Ability™ Quality Management System, which is based on industry-leading ABB Ability™ System 800xA. By utilizing advanced measurement, control strategies and high-performance algorithms, ABB caliper and gloss control minimizes caliper and gloss variations under any operating conditions.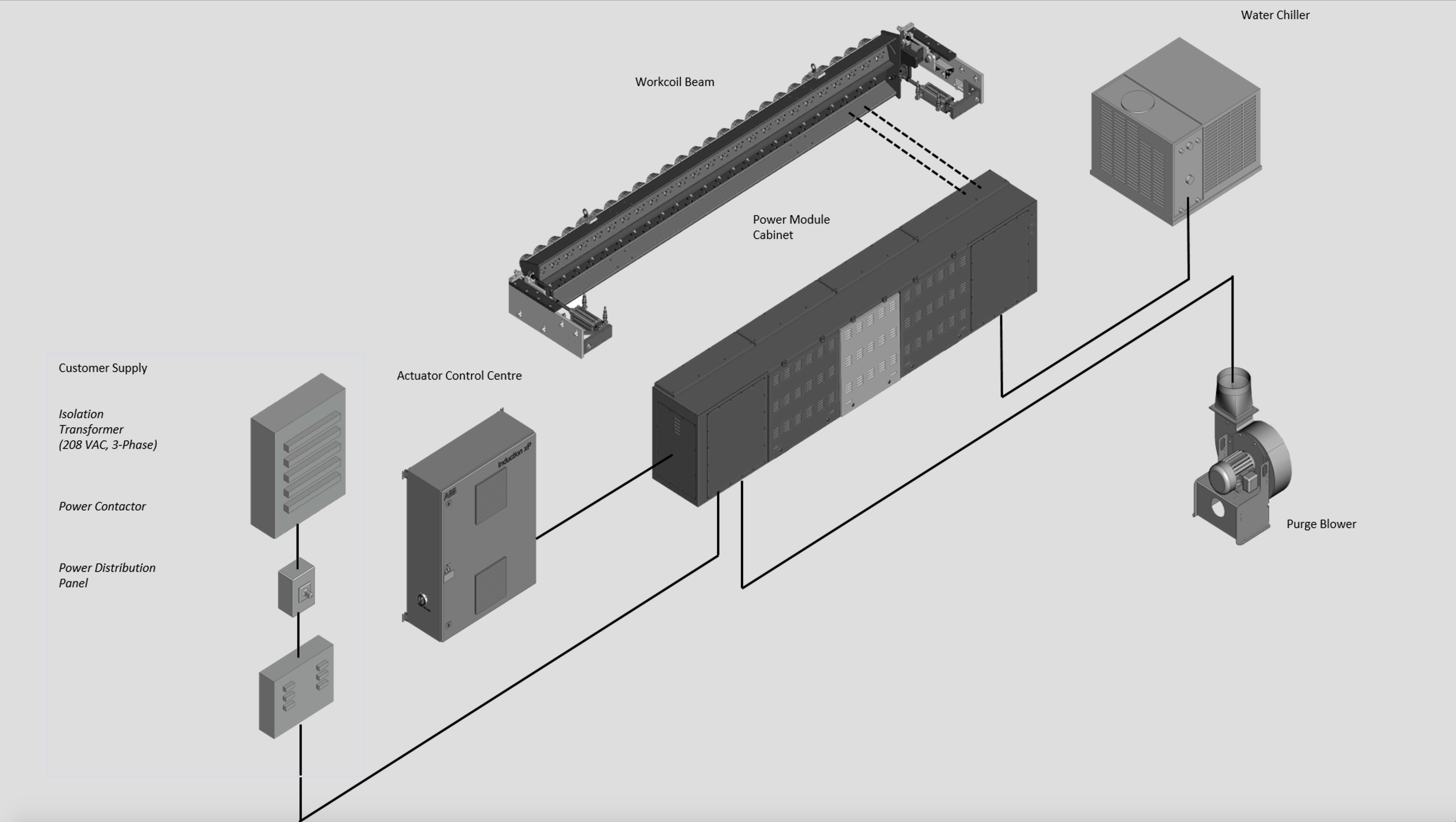 (2) ABB launches new Optical Consistency Transmitter sensors to improve retention measurement.

New sensors offer widest variety of measurement options available, incorporating unique principles for unparalleled levels of accuracy and control, with reduced maintenance
ABB has today launched its KPM KC9 Optical Consistency Transmitter family, a new range of sensors that provide accurate measurement of total and/or ash consistency for better wet end measurement and control in pulp and paper processes. The sensors are suitable for pulp, paper, board and tissue manufacturers using virgin or recycled raw materials, particularly those using ash fillers, where only optical sensors are effective to measure ash consistency.

Available as either inline or bypass sensors, the entire KPM KC9 Optical Consistency Transmitter family offers the widest range of sensor options currently available and is best suited to measure the lowest consistency ranges. Providing reliable and accurate results, the sensors permit maintenance while processes are running, unlike other consistency sensors which require a shutdown and emptying of the process pipe.
The sensors work in tandem with ABB's KPM KRA/KRT Retention Measurement System, used to monitor and control paper and board machine retention. Available in two options, the KRA unit measures white water total consistency as well as ash consistency. The KRT unit measures total consistency only.

"These new sensors employ unique measuring principles to ensure each application is covered cost effectively without compromising measurement accuracy," said Per Sandstrom, Head of Lab and Process Testing Measurements, Pulp and Paper, Process Industries, ABB. "The sensors provide better control of deinking processes and machine wet end, enabling the highest proportion of on spec product with limited maintenance and lower installation costs."

Besides its Optical Consistency Transmitter, ABB's retention measurement system includes all necessary modules to ensure accurate and trouble-free measurement of headbox or white water stock, where consistency is so low that only optical technologies can be used. The system and sensors are part of ABB's complete solution set for the wet end, including quality control, automation, advanced process control, instrumentation and much more.

The KPM KC9 Optical Consistency Transmitter range
Inline sensors
The KPM KC9 inline consistency sensors are developed to measure single component fiber consistency in liquids from 0-14 percent.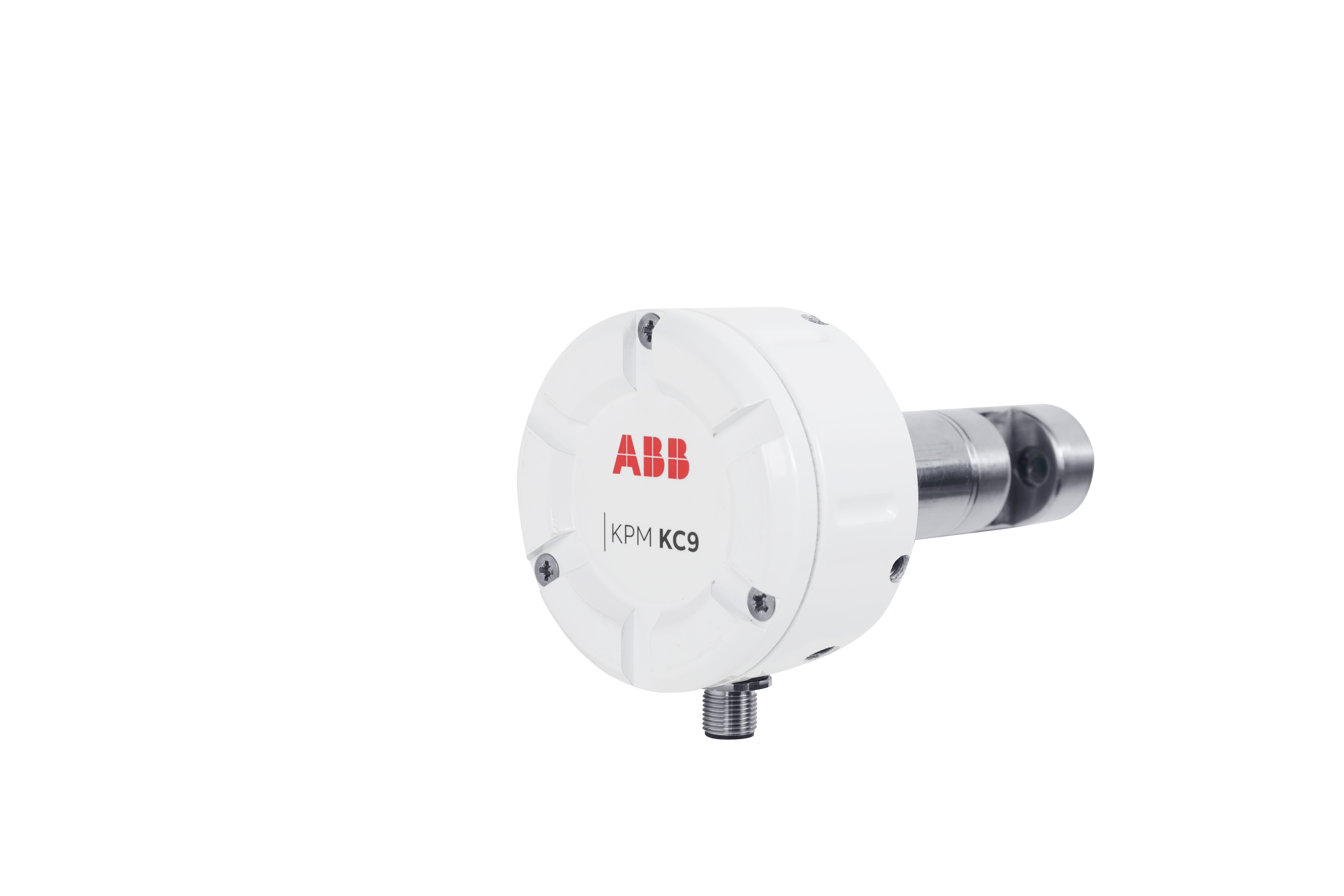 Bypass sensors
The KPM KC9 bypass consistency sensors are developed to measure consistency in liquids from 0–5 percent.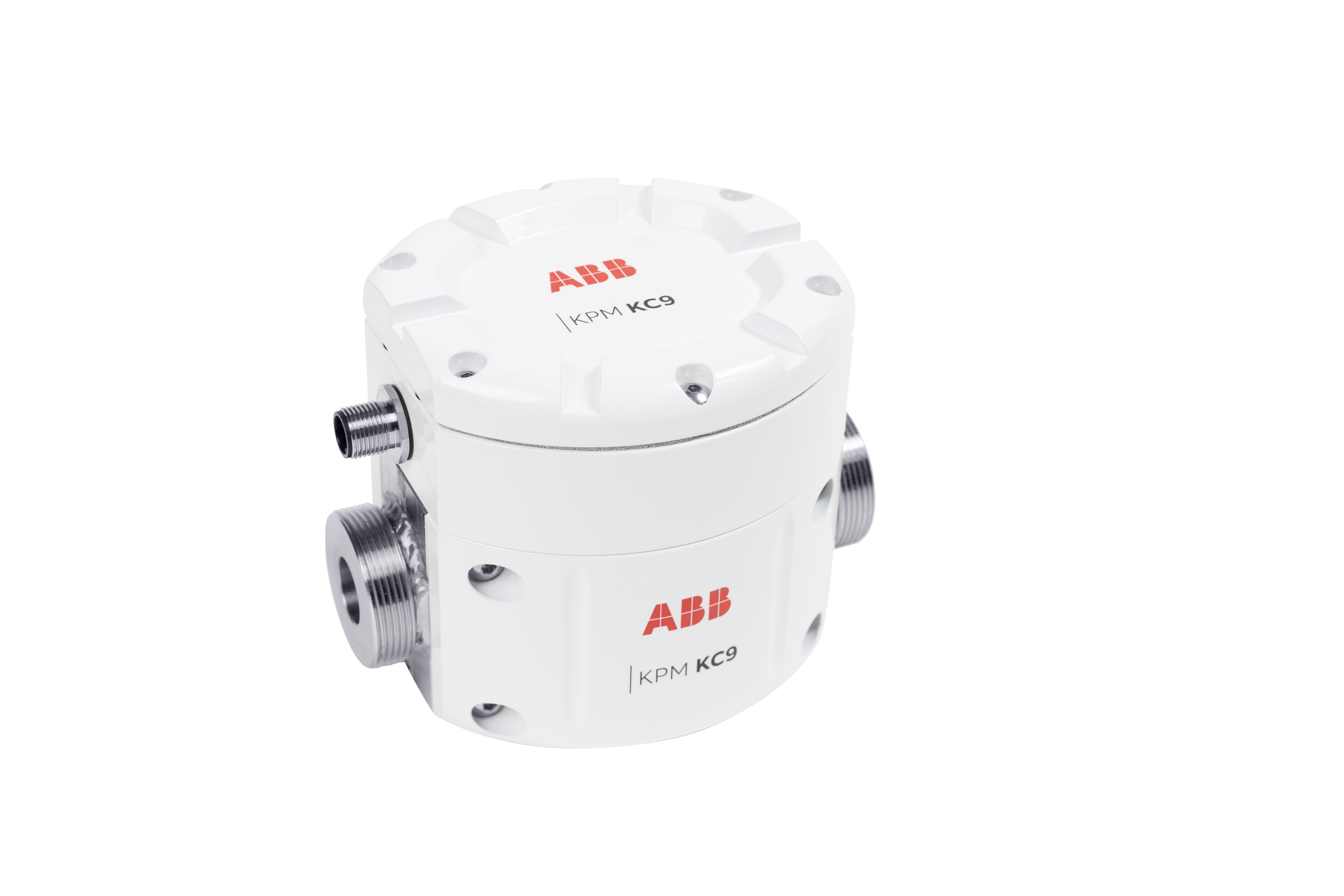 All the new models with updated electrical and software design are evolved from industry-proven KPM OC Optical Consistency Transmitters. These were originally developed in cooperation with Cerlic, which has a 40-year heritage in pulp and paper applications.
For further information on the KPM KC9 Optical Consistency Transmitter family of sensors, please visit: https://new.abb.com/pulp-paper/abb-in-pulp-and-paper/products/process-measurements

(3) ABB launched two new features as part of its Web Imaging System, designed to help manufacturers deliver on-specification paper as part of ABB's commitment to providing end-to-end integrated solutions for the pulp and paper industry.
For fine paper and paperboard manufacturers seeking to optimize printability of their end product, reduce rejects and achieve consistent output quality, Full Sheet Formation Analysis provides conclusive, highly visualized measurement of paper uniformity for the full web. Aiming to redefine the standard of measurement accuracy, this patent-pending new feature offers deeper and more precise analysis of formation, helping papermakers better optimize established paper properties to achieve higher quality goals.

While traditional measurement techniques only look at a small portion of the web and may not reveal the floc sizes or shapes, ABB's full sheet solution leverages proprietary methods, processing parallelism, and the flexibility of the FPGA (field-programmable gate array) based smart camera platform to reveal and classify paper formation floc sizes and shapes. This greatly improves the ability to determine the uniformity of paper formation, while removing the possibility of misleading results.

For linerboard and liquid packaging manufacturers that require accurate detection and analysis of wrinkle formation, Real-Time Wrinkle Count provides online measurement and analysis of all paper web-based products. The new feature is the only system available for pulp and paper manufacturers that identifies wrinkles and aggregates the data to easily reveal problems across the web in real time, giving papermakers a competitive edge on maintaining quality.

The feature captures up to 1.4 million wrinkle defects per camera without overloading the system and sends alerts when KPIs are outside of user-defined thresholds. It then aligns defect maps to sample machine or cross direction location. It provides highly consistent results, enables precise laboratory correlation, allows for better management of the process, and reduces the amount of rejects.

"The launch of these two powerful new features demonstrates our continued investment in our Web Imaging System and reinforces our commitment to helping papermakers achieve the highest quality in their product output," said Stephen Mitchell, Product Manager, Web Imaging at ABB. "We are determined to push the industry forward with the development of new measurement techniques that use the most advanced technology to make online quality control easier to achieve."

Real-Time Wrinkle Count and Full Sheet Formation Analysis are part of the ABB Ability™ Quality Management System integrated solution suite consisting of products, services and applications for quality control. ABB's web inspection system, with formation analysis and/or wrinkle count features, will deliver actionable information to ABB's QCS (Quality Control System) and DCS (Distributed Control System) systems, based on industry-leading ABB Ability™ System 800xA, enabling process alarms and quicker corrective actions to quality issues.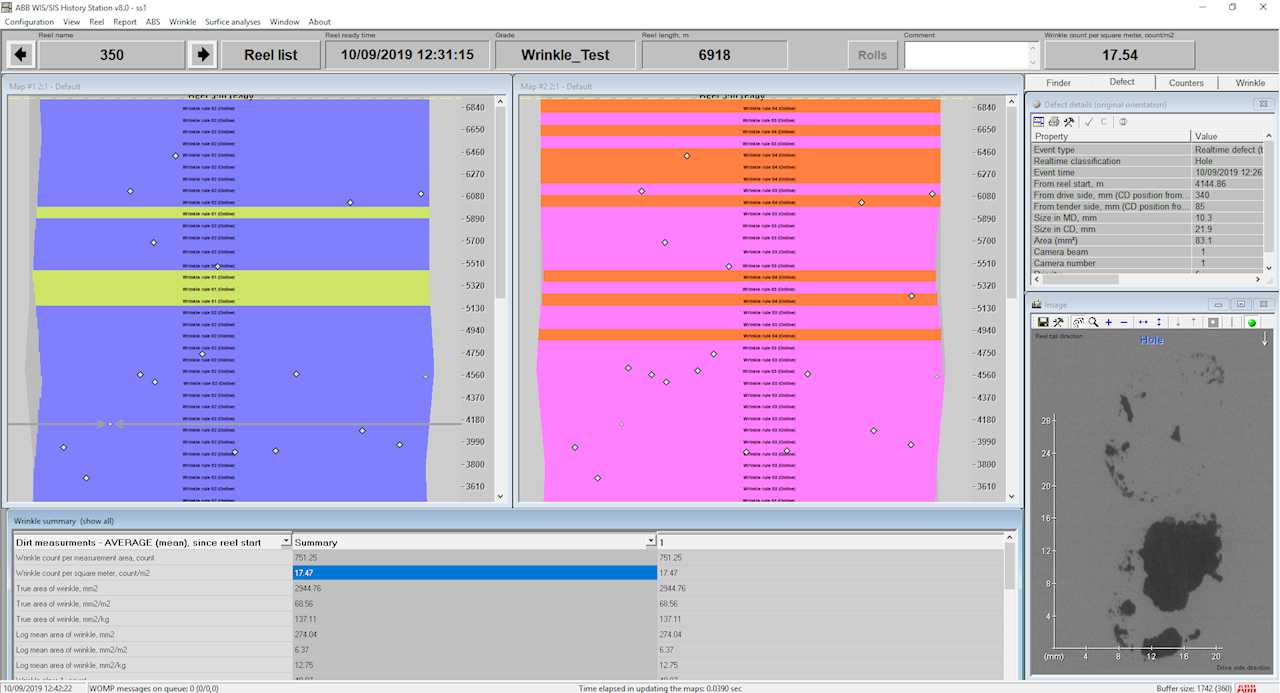 Real-Time Wrinkle Detection detects and classifies wrinkles on both the top and bottom side of the web and can uniquely capture even the feintest of wrinkles due to our patent-pending solution

(4) ABB to power smart operations with enhanced manufacturing management technology
The Manufacturing Operations Management (MOM) software suite powers streamlines production for increased productivity and profitability, enabling seamless plant orchestration.

The new version of ABB Ability Manufacturing Operations Management will offer an extended range of capabilities and new digital applications. This flexible and secure software platform with a broad suite of industrial applications gives operators, supervisors and plant managers the visibility and insights to take the right actions for increased productivity, quality and compliance.

New features in the enhanced manufacturing operations management platform include:
• Enhanced user experience based on new HTML 5 web client;
• A new smart interactive dashboard application that provides greater visibility and collaboration;
• A new statistical process control (SPC) application, to determine if each process is in a state of control;
• A new Batch Compare application – for advanced batch analysis

"ABB Ability Manufacturing Operations Management is a comprehensive, scalable and modular software suite that optimizes visibility, knowledge and control throughout the operations domain," said Narasimham Parimi, Head of Digital Products – Product Management, Process Control Platform. "This release provides a range of rich new functionality and a new enhanced user experience that enables operations to become more productive and responsive."

ABB Ability Manufacturing Operations Management is designed to simplify production management by enabling performance monitoring, downtime management and maintenance support, as well as providing statistical production analysis tools. It provides solutions and tools to facilitate the collection, consolidation and distribution of production, quality and energy information via the plant's web-based reports, trends, and graphs.

A new, self-service dashboard application promotes increased collaboration, providing visibility from shop floor to top floor and spanning IT and OT environments. It increases data connectivity to all apps and modules within the MOM suite, combining historic and manufacturing data and providing the user with improved customization capabilities. Dashboards can be shared amongst users, further promoting collaboration between teams. Trends and events are displayed together, which enables customers to identify issues and opportunities enabling informed and timely decisions.
The new common services platform features an HTML 5 web platform that runs across all suites ensuring customers have a seamless user experience, so that applications can be viewed on different devices right down to a 10-inch tablet.

Statistical data process control (SPC) is used in manufacturing to determine if each process is in a state of control. The new SPC application works across all the different apps and modules and helps the user to improve quality and production related performance.

In addition to the existing Batch View and Batch Investigate features, a comparison option has been added to the platform's batch analysis applications, allowing different types of comparison.
Cyber security remains one of the key issues in the advancement of Industry 4.0, and the new features in MOM include enhanced security.

ABB Ability™ Manufacturing Operations Management is part of ABB AbilityTM, the company's unified, cross-industry, digital offering — extending from device to edge to cloud — with devices, systems, solutions, services and a platform which enables customers to increase productivity and lower costs. ABB Ability™ was launched in 2017 and already offers more than 210 solutions. With an installed base of 70 million connected devices, 70,000 digital control systems and 6,000 enterprise software solutions, ABB is a trusted leader in the industrial space, and has a four-decade-long history of creating digital solutions for customers.