A lifetime's dogged dedication to the art of paper making was recognised on Saturday. The owner of Pitt Paper Mill, Jim Patterson was awarded the accolade of "Maker of the Year" 2019, by the Heritage Crafts Association in London. The citation acknowledged previous difficult decades, his commitment to passing on the skills of his trade, and his outstanding craftsmanship.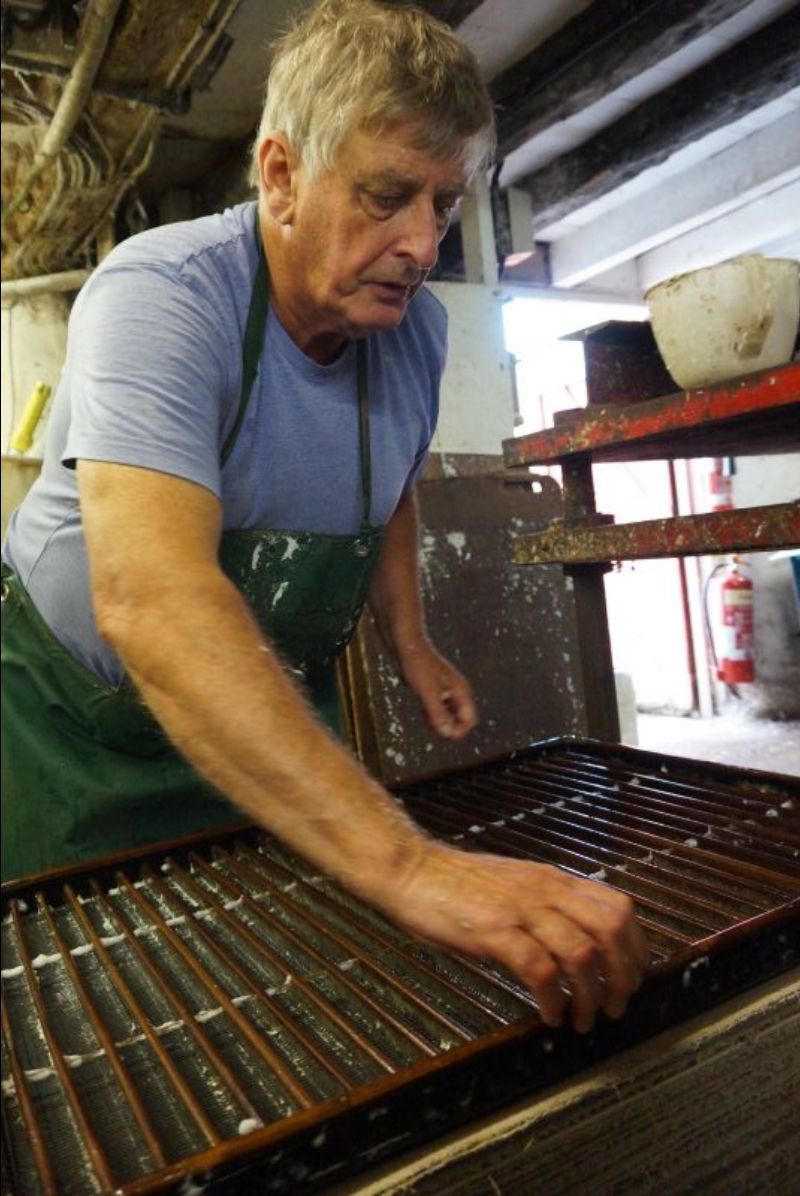 The HCA was formed as a charity ten years ago to identify and support the UK's rich crafts tradition. It is particularly concerned with those trades facing extinction simply because they are unable to attract and train new blood.

Two Rivers first came in contact with the Association through their pilot, pre-apprenticeship programme run by Tracy Hill and Daniel Carpenter. That led to the appointment of Zoe Collis on a three year paper making apprenticeship. A training bursary and a Queen Elizabeth Trust Scholarship followed with their help. You can find out about this impressive organisation through their website and may want to donate to their Endangered Craft Fund, which you can do here.

The award was made during the association's annual conference at Cecil Sharp House in London. The revised Red List of Endangered Crafts was unveiled by Daniel Carpenter. Hand paper making was recognised for the first time as being critically endangered in the UK, joining other such trades as church bell founding, flute making and watchmaking.

The list attracted extensive media coverage both in the UK and abroad, shining a light on heritage craft practices under threat. Stories about the conference appeared in three national newspapers and even got a mention on the Radio 4 Today programme. Amazingly, TR got a name check in the Saturday Mail!

As well as winning "Maker of the Year" 2019, Two Rivers Paper was on a short list of 4 for the "Made in Britain" award. We lost out to a worthy winner Tony Kindell of Aldershaw Handmade Tiles Ltd. They make, entirely by hand, beautiful functional and decorative clay tiles. We congratulate them and wish them well.

Zoe, Neil, and Jim rounded off the conference day with an excellent meal.....rack of lamb and sea bass....at The Engineer just round the corner from Cecil Sharp House.

The prize money will cover the cost of materials to complete work, already started, on the mill stream. We will restore water power during the next few weeks. Thank you, all at the Heritage Crafts Association.