Buckman, a global company specializing in innovative chemical and smart solutions, announced that its offices in China, India and Brazil received the Korn Ferry 2018 Employee Engagement award.
52 companies in 47 countries across the globe were recipients of this prestigious award. Winners were chosen based on the largest percentage of positive responses to two questions within the recently administered Korn Ferry employee opinion surveys:

I feel proud to work for the company.
I would recommend the company as a good place to work.

To calculate the winners, Korn Ferry analyzed the percentage of employees who 'strongly agreed' or 'agreed' with the two statements to create an overall score.

"These statements are proven measures of strong employee engagement and a healthy employer brand," said Ben Hubbard, Senior Client Partner, Surveys & Listening, Korn Ferry. "Because these statements are consistently used by companies around the world to benchmark levels of employee engagement, they provide an excellent foundation for our award."

Korn Ferry's research has shown that employee engagement remains one of the most important factors to an organization's health and sustainable performance.

"High employee engagement is critical to Buckman's success," said Junai Maharaj, Buckman's CEO and President. "This award further demonstrates that our associates' are engaged and driven to strengthen our company's position in the smart solutions and chemical industries. None of Buckman's success would be possible without them."

Buckman's offices receiving the awards are located in São Paulo, Brazil, Shanghai, China and Chennai, India.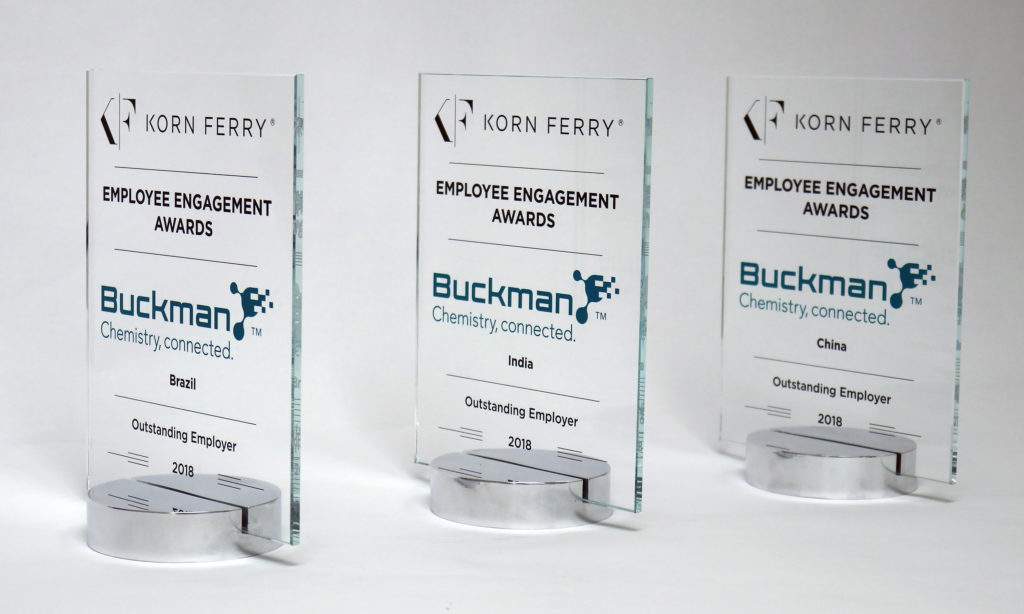 About Buckman
Buckman is completely committed to helping our customers succeed, regardless of the challenges facing them, the industry they operate in or their location in the world. To fulfill that commitment, we surround our rigorously trained industry experts with the highest-quality chemicals, the latest smart technology and advanced data analysis. All focused on helping our customers' operations improve productivity, increase profitability and ensure safety, compliance and sustainability. That's more than chemistry. That's Chemistry, connected.