DS Smith Kemsley is delighted to have supported 400 Scouts from Gillingham, Sittingbourne, and Teynham in a sponsored sleep-out to raise awareness and funds for Porchlight, a homelessness charity working in Kent and the South East.
The Kent Scouts Big Cardboard Sleep Out was organised by Porchlight to mark World Homelessness Day (Friday 12th October). Around 3,000 Beavers, Cubs, Scouts, and Explorers in 22 separate locations put themselves in the shoes of someone who's homeless by sleeping outside with nothing but cardboard for protection.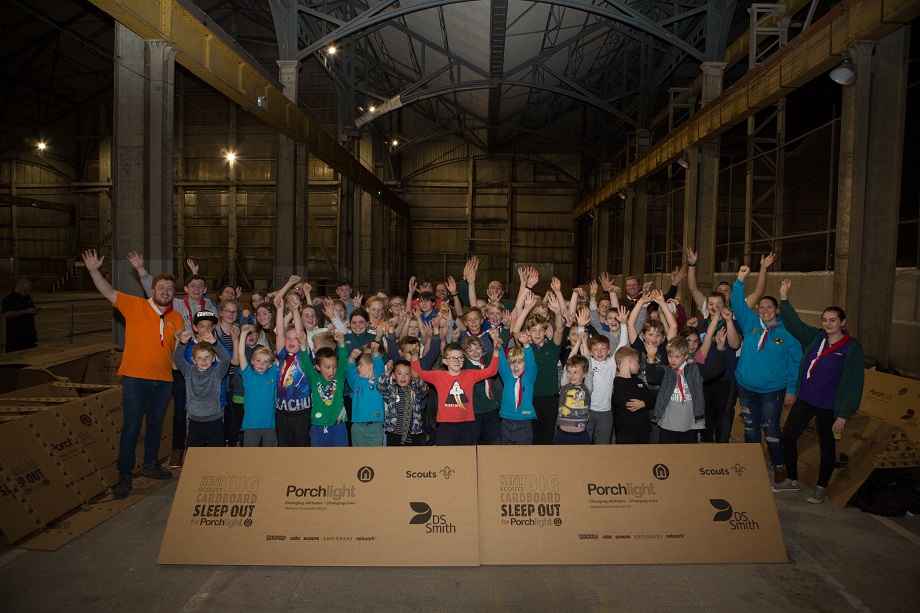 To support the sleep out, DS Smith Packaging's heavy duty cardboard manufacturing plant at Hinckley printed cardboard 'tents' for Gillingham District Scout Groups, 1st Teynham Scouts, and Sittingbourne District Scout Groups, which are led by Kemsley employees Adam Fowler and Dan Egginton.

As well as providing the fully recyclable, prism-shaped boxes to function as tents, DS Smith collected and recycled every box after the event.

"We were delighted to join this fantastic initiative to help raise funds and awareness of homelessness across our local areas," said Adam Fowler, Operations Improvement Engineer at DS Smith Kemsley Paper Mill, and Scout leader of the 17th Gillingham Scouts. "This has been an eye-opening experience for our Scouts, impressing the importance of supporting local charities and being a responsible neighbour on our young people."

Porchlight is a homelessness charity that offers advice and support for 5,000 people a year. Last year, Porchlight worked with over 800 people sleeping on Kent's streets, with the charity's helpline taking 16,942 calls.

Rachel Van Hoven, Community Fundraising Manager at Porchlight, said: "Despite our best efforts, homelessness will still affect future generations. The money raised from the sleep out will allow us to continue running life-saving services for people who are living on the streets right now. We are grateful to DS Smith for supporting this initiative and look forward to working with them on future fundraising events."